Penguin Classics to Collaborate With Marvel to Publish Special Editions of Classic Comics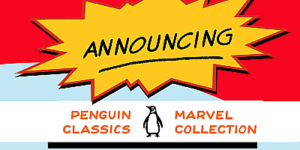 Penguin Classics will be collaborating with Marvel Comics to publish a new series, the Penguin Classics Marvel Collection, marking the first time that comics have been published by Penguin Classics. The first three books in the series – BLACK PANTHER, CAPTAIN AMERICA, and THE AMAZING SPIDER-MAN – will be published on June 14, 2022.
This Collection of carefully curated comic book anthologies presents the original stories and seminal tales of key Marvel characters, and serves as a testament to Marvel's transformative impact on graphic fiction and icons and stories across popular culture.
Each title includes a foreword by a prominent contemporary young adult author—Jason Reynolds, Nnedi Okorafor, and Gene Luen Yang—and a detailed scholarly introduction, speaking to the enduring significance of Marvel's iconic creations. Each will be published in black spine paperback as well as a collectible hardcover edition with beautiful gold foil stamping, gold top stain edges and endpapers featuring artwork from the comics.
Ben Saunders, editor of the series, says, "The comics produced at Marvel in the 1960s can be compared to the most enduring popular music of that same tumultuous decade. Working at tremendous speed in what was widely regarded as a low-status commercial medium, the creators at Marvel initiated and participated in an aesthetic revolution. These comics have now influenced writers and artists across all forms of media — from contemporary novelists to hip hop musicians to Hollywood filmmakers. It is not hyperbole but simply a fact: these classic Marvel Comics are foundational documents of our culture."
Elda Rotor, Vice President & Publisher of Penguin Classics, says, "When we talk about what makes a classic, we consider the work's ability to connect with an audience across time, in both universal and individual ways. Marvel's sustained and rich engagement with generations of readers, one that also provides a critical social lens, a deeply personal reflection of the human condition, and a shared reading experience of such storytelling and artistic innovation, is a super power. For instance, you can just say, 'Spider-Man,' and it opens up a whole world of stories and understanding. To me, that makes a Marvel classic a Penguin Classic. To have this opportunity to place the work of Stan Lee, Steve Ditko, Jack Kirby and many other historic Marvel creators on shelves alongside the world's classics marks a very special chapter in Penguin's publishing history."
Posted: October 15, 2021