Penguin Parapalooza to Present 8 PPG Authors via Crowdast (9/30)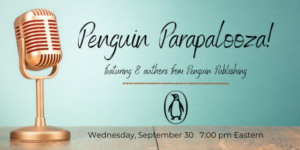 Penguin Parapalooza features eight Penguin Publishing Group authors discussing their new titles at a virtual event moderated by PRH Sales Representative Virginia Price and hosted by Bookmarks via Crowdcast on Wednesday, September 30 at 7:00 pm (ET).
The featured authors and books will include Cathy Marie Buchanan, Daughter of Black Lake; Lee Conell, The Party Upstairs; Alexis Henderson, The Year of the Witching; Asha Lemmie, Fifty Words for Rain; Liz Moore, Long Bright River; Shannon Pufahl, On Swift Horses; Madi Sinha, The White Coat Diaries; and Denise Williams, How to Fail at Flirting.
!! As a reminder, if you are posting to a personal or other non-PRH account you must include the hashtag #TeamPRH !!
Posted: September 28, 2020