Penguin Presents Emily Henry and Laura Hankin via Instagram Live (6/3)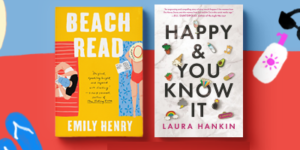 Emily Henry, author of BEACH READ (Berkley) and Laura Hankin, author of HAPPY AND YOU KNOW IT (Berkley) will be in a Penguin Presents virtual conversation, hosted live via PenguinUSA's Instagram on Wednesday, June 3 at 7:00pm (ET).
In Emily Henry 's BEACH READ, a romance writer who no longer believes in love and a literary writer stuck in a rut engage in a summer-long challenge that may just upend everything they believe about happily ever afters
Ms. Henry writes stories about love and family for both teens and adults. She studied creative writing at Hope College and the New York Center for Art & Media Studies, and now spends most of her time in Cincinnati, Ohio, and the part of Kentucky just beneath it.
Filled with humor and shocking twists, Laura Hankin's HAPPY AND YOU KNOW IT is a brilliant take on motherhood while also exploring the baffling magnetism of curated social-media lives that are designed to make us feel unworthy. But, ultimately, this novel celebrates the unlikely bonds that form, and the power that can be unlocked, when a group of very different women is thrown together when each is at her most vulnerable.
Ms. Hankin has written for McSweeney's and HuffPost, among other publications. The viral videos that she creates and stars in with her comedy duo, Feminarchy, have been featured in Now This, The New York Times, and Funny or Die. She grew up in Washington, D.C., attended Princeton University, and now lives in New York City, where she has performed off-Broadway, acted onscreen, and sung to far too many babies.
!! As a reminder, if you are a PRH employee posting to a personal or other non-PRH account, you must include the hashtag #TeamPRH !! 
Posted: June 2, 2020