Penguin Press Editor Emily Cunningham on How ELEANOR AND HICK Transforms Our Perception of Eleanor Roosevelt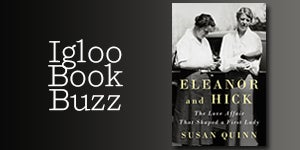 Our Igloo Book Buzz title this week – a timeframe charged with the current presidential race –presents an inside look at Susan Quinn's ELEANOR AND HICK, published on Tuesday (9/27) by Penguin Press. It's a warm, intimate account of the love between First Lady Eleanor Roosevelt and reporter Lorena Hickok—a relationship that, over more than three decades, transformed both women's lives and empowered them to play significant roles in one of the most tumultuous periods in American history.
Penguin Press Editor Emily Cunningham shares these insights: "While some history readers may know Lorena Hickok's name, she has been more or less lost to history. With warmth and style, Sue Quinn brings 'Hick' and her relationship with one of our most beloved First Ladies to life. When FDR asked his wife for feedback on the now-famous 'fear itself' speech, Eleanor read it out loud to Hick, word by word. Hick even had her own room at the White House during Roosevelt's presidency. Sue's book is packed with wonderful discoveries like these.
"From the first time I picked up the manuscript I was stunned by the feat that Sue has pulled off here: Not only has she revealed a new side of Eleanor, someone we thought we knew well, but in Hick she's also introduced us to a woman who was every bit Eleanor's equal in her intellect, her spirit, her sense of purpose. It's a brilliant book that we feel very proud to publish."
Author Susan Quinn reveals, "When I began writing ELEANOR and HICK, I referred to Eleanor Roosevelt by her initials, ER—an accepted practice among historians. That felt cold and distant. So what to call her? No one called her Eleanor when she was alive. FDR called her 'Babs' and those she was closest to called her 'Mrs. R.'  Even Lorena Hickok called her 'Mrs. R.' around others.  Only in her letters did she address her as 'Dear You,' and 'Darling.' But if Lorena Hickok was going to be 'Hick,' then Eleanor Roosevelt had to be Eleanor.  As soon as I started using her first name, Eleanor stepped off her pedestal and came alive on the page."
Posted: September 27, 2016