Penguin Press, Penguin Young Readers Author Kamala Harris Named Joe Biden's Running Mate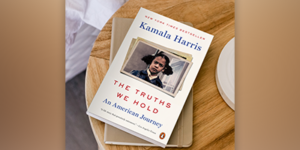 Joe Biden, the presumptive Democratic candidate in the November 2020 U.S. Presidential election, has selected New York Times bestselling Penguin Press and Penguin Young Readers author Kamala Harris to join him on the party ticket as his Vice Presidential candidate. 
Harris, the junior U.S. Senator from California, is the author of one adult and two young readers books published by Penguin imprints in English, and, the latter in Spanish, print editions, and in e- and audio book formats.
THE TRUTHS WE HOLD: An American Journey is an empowering memoir in which the author shares the values and inspirations that guided her life, and led her to discover her own sense of self and purpose. Published by Penguin Press in hardcover and e-book on January 8, 2019, it debuted as a New York Times Hardcover Nonfiction Bestseller at number four, and was on the list for five weeks.
The simultaneously-published Penguin Audio edition, read by the author, was also a Times bestseller.
The Penguin trade paperback edition was published last week.
Philomel Books published Senator Harris' picture book, Superheroes Are Everywhere, in English in January 2019, and as Los Superhéroes están en Todas Partes in May of that year. Presenting stories of the author's family, friends, and public figures who inspired her throughout her life, illustrated by Mechil Renee Roe, it debuted at number one on the New York Times Picture Book Bestseller list.
Philomel Books followed the picture book publication with a Young Readers edition of the Harris memoir, The Truths We Hold, in May 2019 in English, followed by the Spanish version — Las verdades que sostenemos — this January.
Our publishers were thrilled and ready for this great news.  They got the word out immediately upon the Harris nomination announcement the afternoon of August 11.  They updated their respective Kamala Harris digital-promotion folders with refreshed photographic social media assets, with the PYR team urging their colleagues to feature the Philomel titles on their social media feeds.
Posted: August 12, 2020