Penguin Press' Scott Moyers on Yvon Chouinard and LET MY PEOPLE GO SURFING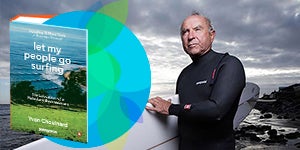 As Penguin Random House continues its ongoing commitment to social responsibility and business practices that minimize our impact on the environment, our new Climate Change series article features an interview with Penguin Press Vice President and Publisher Scott Moyers. He worked closely with world renowned environmentalist and Patagonia co-founder Yvon Chouinard on his book, LET MY PEOPLE GO SURFING; a 10th anniversary fully updated trade paperback edition was published by Penguin last fall.
In this interview, Scott offers insights into Mr. Chouinard's book, business philosophies, core values, and environmental activism as well as the "contagious success" of Patagonia, whose primary mission is "to use business to inspire and implement solutions to the environmental crisis."  The recent news on the Earth Setting a Temperature Record for the Third Straight Year reminds us all of the urgency of global warming and the importance of how we consider the environment.
What brought about your initial contact with Yvon Chouinard and how would you characterize the experience and process of working with him as his book editor and publisher while presenting all aspects of his life and business? 
Yvon Chouinard is powerfully inspiring because he has stubbornly refused to do anything with his business that does not advance its core mission: "to use business to inspire and implement solutions to the environmental crisis."  You can't be in partnership with him without learning that, one way or another.  I was submitted the book by his agent, Susan Golomb, in 2004 or 2005, and I knew enough about Patagonia's brand halo, as they say, and was sufficiently taken by the voice on the page, which even in proposal form had that thrilling ring of authenticity and irreverence, that I went for it, and was fortunate enough to prevail in a heated auction. (It helped that no one has a bigger crush on Yvon Chouinard than Ann Godoff.)  But really diving off the deep end with him was something else entirely.  First, everything was slightly irreverent, and counterintuitive – what business leader calls his memoir "Let My People Go Surfing?"  Which is from the company policy that when the surf's up, employees should feel free to hit it.  And he wanted to do an oddball trim size, with all sorts of funky sidebars and a lot of art.  And he and Patagonia nudged us over to using a different kind of paper, recycled, of course.  And on and on.
But what really hit me was the story of the business itself. Just one story for now: there came a point when Patagonia commissioned a holistic environmental impact study of their entire business.  What came back surprised and dismayed them: the worst thing they were doing to the planet was using so much factory-farmed cotton. As you can imagine, cotton shirts, etc., make up a big chunk of the business.  What did they do? They pulled all of their cotton products, reinvented their supply chain, sourced their cotton ethically and in such a way as to catalyze environmentally responsible cotton growing more generally… in short, they used their market power to be a force for good and not ill. And ultimately, in the long run, they were more profitable by doing so!  In the short run, of course, they had to absorb a tremendous hit to the bottom line. Needless to say, if they were a publicly held company, this might have been impossible, even unimaginable.Though thanks in no small part to Patagonia's example, there's been a change in consciousness, and perhaps it's less unimaginable than it was.  I hope this book has contributed to that; I think it has.
How does LET MY PEOPLE GO SURFING, divided into a History of Patagonia and eight Philosophies sections, best inform and inspire readers through key takeaways from this environmentally-responsible businessman/adventurer and his company? 
I think the bottom-line takeaway for your own life and work is that, in area after area – design, production, distribution, marketing, finance, HR, management, environmental stewardship – if you don't blink, if you keep fear at bay and keep your focus on the most quality for the least harm, you will be a magnet for talented, big-hearted colleagues and customers, and your story will carry.  Every time this company took a short-term hit to innovate in the direction of greater responsibility for the state and fate of the earth, the more successful they have been in the long term.
How transferable are Mr. Chouinard's approaches to business, life and the environment to other industries and individual readers? 
No one wants to leave their values at home when they come to work. Yvon Chouinard never did, and his company has been an enormous force for the good.  We all are part of the problem that is the global sustainability crisis, including global warming, one way or another. Activism and capitalism don't have to be opposed, in fact they can't be, if we're going to keep this planet of ours and all the creatures on it.
What factors were involved in the decision to produce a new edition of LET MY PEOPLE GO SURFING on the 10th anniversary of its first publication and what are examples of some of the most significant new content?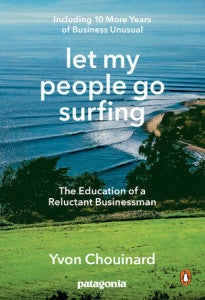 Back in 2006, "sustainable business" was just emerging as a concept in mainstream terms.  Part of the good news of the past decade is that sustainability has become cooked in to the mix of business education, at the MBA level and down, and LET MY PEOPLE GO SURFING is widely taught. The past decade has been a period of great growth and thus change for Patagonia, and it has also really doubled down and then some on its environmental activism, so there was so much more to tell. Yvon added a good 20% of new material to the book, including an entirely new chapter on environmental activism, and Naomi Klein has added a passionate new foreword. There are revisions throughout the book, my favorite being that it's now in four-color and Yvon and Patagonia have added many wonderful new photographs.  One way or another, all of the additions only sharpen the point, which is that, as Naomi Klein puts it in her foreword, "This is the story of an attempt to do more than change a single corporation – it is an attempt to challenge the culture of consumption that is at the heart of the global ecological crisis."  And to have fun doing it!  Contagious fun, contagious righteousness, contagious success – that's Yvon Chouinard and Patagonia, and that's LET MY PEOPLE GO SURFING, now cleaned up for the next 10 years, and then some.
Posted: January 27, 2017