Penguin Press to Publish Will Smith's Memoir in November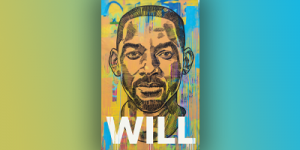 Penguin Press will publish WILL, a memoir by two-time Academy Award nominee, Grammy Award and NAACP Image Award winner Will Smith, on November 9, 2021. Smith celebrated this announcement on Saturday, June 19, with a community Block Party in the Wynwood Arts District of Miami, Florida. New Orleans-based visual artist Brandan "BMike" Odums designed and unveiled the cover of WILL, which features a series of layered portraits of Will Smith throughout his life, each one painted on top of the other. The idea is to communicate visually the evolution of a person, from childhood through adulthood, and at major stages of their life in between. Odums's works engage in a transnational dialogue about the intersection of art and resistance. 
The Block Party also marked the launch of the WILL Youth Book Club, which will build a global community around the themes of Smith's book—with the goal of deepening members' love of reading, culture, self-expression, self-healing, and self-awareness. Members will be invited into the immersive world of WILL and Smith's life journey through global book club communities, heartfelt conversations, and exciting events. In partnership with My Brother's Keeper Alliance, American Federation of Teachers (AFT), Max M. Fisher Boys & Girls Club, Winning Strategies, and the Miami Mayor's Office, 100 local Miami students attended the Block Party and got a first look at WILL.
Written with the help of Mark Manson, author of the multi-million-copy bestseller The Subtle Art of Not Giving a F*ck, WILL tells the story of one of the most dynamic and globally-recognized entertainment forces of our time.  Smith opens up fully about his life, tracing his learning curve to a place where outer success, inner happiness, and human connection are aligned. WILL is a global publishing event, with simultaneous publication in 113 countries and counting.  Smith will be narrating the audiobook of WILL from Penguin Random House Audio.
Smith's transformation from a fearful child in a tense West Philadelphia home to one of the biggest rap stars of his era and then one of the biggest movie stars in Hollywood history, with a string of box office successes, is a tale of inner transformation and outer triumph.
This memoir is the product of a profound journey of self-knowledge, a reckoning with all that your will can get you and all that it can leave behind. WILL is the story of how one person mastered his own emotions, written in a way that can help everyone else do the same. Few of us will know the pressure of performing on the world's biggest stages for the highest of stakes, but we can all understand that the fuel that works for one stage of our journey might have to be changed if we want to make it all the way home.
Posted: June 21, 2021