Penguin Press's Scott Moyers on Editing Moby's Memoir PORCELAIN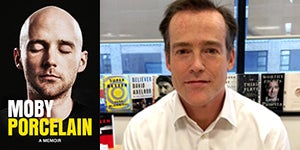 Scott Moyers, Vice President and Publisher of Penguin Press, shares fascinating personal insights into the editing of PORCELAIN, the piercingly tender, warmly funny and sometimes harrowing memoir written by Moby, internationally renowned singer-songwriter, musician and DJ.
Scott began his career in book publishing at Doubleday in 1991, and has also held positions at Scribner, Random House, and the Wylie Agency.  Among the many award-winning, bestselling Penguin Press authors whose books Scott has edited are: Phil Klay, Krista Tippett, Dave Isay, Ottessa Moshfegh, Alan Greenspan, Bryan Burrough, Tony Judt, John Lewis Gaddis, Liaquat Ahamed, Niall Ferguson, Phil Jackson, Urban Meyer, Ian Buruma, Jordan Ellenberg, and Moby.
A lot of musician memoirs have been ghost-written or cobbled together with co-authors, whereas PORCELAIN clearly was not. What was your initial impression of Moby's "writing voice" and his ability to tell his life story in book form?
We don't publish very much in the way of so-called celebrity memoir, the product of a personage talking into a tape recorder and then having a journalist add water, and often many other ingredients, and bake.  We do, on the other hand, publish a fair number of so-called literary memoirs, memoirs where what you're selling is the voice, the sensibility, the world, the storytelling power to bring readers deeply into the human drama and/or the human comedy in question.  It's in those terms that we responded to the proposal for Moby's memoir when it was first submitted by his agent Daniel Greenberg.  At that stage, it consisted of a number of stories from different points along the arc of the book.  It was clear he was a very fine, subtle writer: funny, very sharp about the different landscapes he was passing through.  Best of all he didn't take himself too seriously but he was and is an honest romantic about music and the alt-culture that flourishes around it, including the sort of rebel angels who give their lives to it, of whom he is clearly one.  When you sense that someone really is a very good writer, someone whose writing on just about anything is a pleasure, well, you think, sign me up!  I'll follow him anywhere.
Moby uses a lot of first-person narrative that is woven together with reflections, recreated scenes and dialog.  How would you describe the editor/author process that resulted in the creation of this structure that worked so well? 
Moby has an absolutely uncanny memory.  He remembers experiences with extraordinary sensory specificity.  Talk about having good film in the camera eye.  Scene by scene there was very little editorial work needed.  For me it was more about prodding him occasionally to step back and provide context and some interstitial material.  Also, Moby very sweetly wasn't initially as sure as I was that readers would find the creative process of making his music fascinating and indeed essential to the book's overall aims.  I think it was also simply that he was a little too close to it, not surprisingly: I remember him saying, when I pointed out to him that there was a relative dearth of stories about the making of the music itself, that his initial web site for his restaurant did not, his friends pointed out to him, have any pictures of the food!
What is it about the nature of this memoir and some of the experiences Moby delves into that could appeal to a wide range of readers beyond his fan-base and also potentially turn some readers off?
As he has said more eloquently than I could, he made a decision to be frank and unvarnished about the dark side of things – about anxieties, about sources of sadness and pain, about hideously dysfunctional coping mechanisms you might say.  This book contains detailed descriptions of what can only be called degenerate behavior.  Now, obviously, the easily offendable will be easily offended.  If you want to keep it on the light and breezy side, the shallow end of the pool as it were, please, stay away!   But for anyone who's ever struggled honestly with their own demons, well, I'm biased, but I can't imagine who wouldn't be touched by this.  And inspired – ultimately it's a story about a person who found a calling and persevered in it, despite a fairly amazing list of reasons it all shouldn't have worked out.  I don't think Moby ever tries to make himself look brave, in fact quite the opposite, and he certainly never uses the word, but "bravery" is one of the great echoing chords of PORCELAIN for me.
Posted: June 8, 2016