Penguin Random House Acquires Will Smith's Autobiography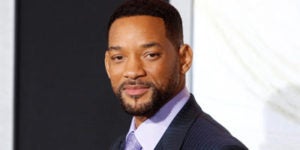 World-renowned actor Will Smith is writing his autobiography for Penguin Random House, with Penguin Press to publish the book in the U.S. Penguin Press Vice President & Publisher Scott Moyers acquired North American rights. Penguin Random House UK imprint Century will publish in the UK and Commonwealth, excluding Canada.
In the book, Smith will tell his personal story, from childhood to his rise as one of our most talented and extraordinary artists of the modern era, in the context of his examination of how his outlook and approach on life have evolved over time. The autobiography will be an "inspirational tale of how his true self-knowledge helped to propel him to extraordinary success, and then evolve further to a place of deeper peace – with himself, his loved ones, and the world." The book is being written with Mark Manson, the self-help expert and author of the bestselling book, The Subtle Art of Not Giving a F*ck.
Will Smith's entertainment career began in the mid-1980s, when he burst onto the rap music scene as MC of the hip-hop duo DJ Jazzy Jeff & The Fresh Prince, ultimately winning a Grammy Award for Best Rap Performance. A TV producer gave him a role in the NBC series, The Fresh Prince of Bel-Air, playing himself, the sit-com becoming a big success. He had his breakthrough on the big screen with Bad Boys (1995), Independence Day (1996), and Men in Black (1997). Since then, Smith has acted in more than 30 other films and co-produced many of them. He was nominated for an Academy Award for his lead roles in Ali (2002) and The Pursuit of Happiness (2007).
The book's title and publication date have not yet been announced.
Posted: October 19, 2018