Penguin Random House and AFROPUNK Launch Rock 'n' Read Instagram Live Series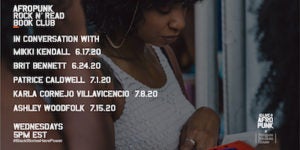 Penguin Random House is excited to announce our continuing partnership with AFROPUNK. Following last year's success as the sole book publisher sponsor of AFROPUNK's Brooklyn festival, this year's partnership includes a 10-week Instagram Live Rock 'n' Read interview series hosted by AFROPUNK, exploring topics around storytelling, identity and the creative process with Penguin Random House authors. This initiative is part of a larger partnership agreement made earlier this year, which has since been scaled back and moved online due to COVID-19.
Tune in to the Rock 'n' Read series live on AFROPUNK's Instagram every Wednesday at 5pm EDT, through August 5th. You can view past Rock 'n' Read events in their IGTV tab here.
AFROPUNK is a culturally diverse global community of artists, creatives, and activists, originating from a 2003 documentary exploring Blackness within the American punk scene. Since then, it has grown to an international music and arts festival, lifestyle brand, a media house and counter-culture movement of its own.
The Rock 'n' Read interview series features authors such as R. Eric Thomas (HERE FOR IT), Mikki Kendall (HOOD FEMINISM), Brit Bennett (THE VANISHING HALF), Ayana Mathis (THE TWELVE TRIBES OF HATTIE), and more. The interviewers will rotate throughout the series, and include senior editor Porscha Burke, assistant director Maya Battle, senior editor Nicole Counts, and executive editor Stacey Barney. Each event is partnered with a Black-owned bookstore, where AFROPUNK will be driving their audience to purchase the book. Kicking off the series on Wednesday, May 27th was none other than Daymond John, renowned CEO, entrepreneur and best-selling author, most recently of the book POWERSHIFT, with the event driving physical and audio sales for The Lit. Bar, the Bronx's only independent bookstore.
Tune in tonight (6/17) at 5:00 pm (ET) to watch and hear author Mikki Kendall (HOOD FEMINISM) in conversation with Maya Battle. The bookstore partner for this week's event is Uncle Bobbie's.
This fall, Penguin Random House and AFROPUNK will be launching a virtual book club to further celebrate the art and importance of storytelling, featuring musicians, editorial content, and discussions between authors and members of the AFROPUNK community.
Posted: June 16, 2020