Penguin Random House and the Kellogg Company Reunite for the Feeding Reading Program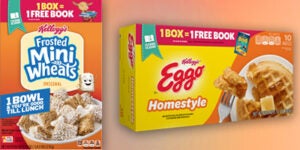 Penguin Random House and the Kellogg Company have once again partnered on the nationwide Feeding Reading program. Last year's campaign was a resounding success, as more than 400,000 books were distributed to kids and families across the country through the program. This year is expected to be even bigger than before, with Penguin Random House characters, corporate branding, and book covers to be featured on more than 100,000,000 Kellogg's packaged goods.
To kick off this year's initiative, a national commercial was created around the program. For your enjoyment, it can be viewed below.
Facilitated by our Special Markets team, the Kellogg's Feeding Reading program offers anyone who buys a participating product to earn credits for a free Penguin Random House book. There are 135 books in the program, so children will be sure to find a book they'll love. The cereal packaging features our beloved characters, including Llama Llama, Corduroy, The Berenstain Bears and The Very Hungry Caterpillar. And when a consumer redeems their book credits, their order is fulfilled directly by our warehouse.
There are just a few simple steps to participate in this rewarding program:
Purchase participating Kellogg's, Eggo, Cheez-It, Pop-Tarts, Pringles, Nutri-Grain products until 9/30/20.
Take a picture of your receipt(s) with qualifying purchase(s) and upload to FeedingReading.com. Each receipt must be uploaded separately and within 30 days of purchase, no later than 10/30/20.
Credits must be redeemed by 12/1/20.
For more information on Kellogg's Feeding Reading program, including participating products and book choices, click here.
Posted: July 23, 2020