Penguin Random House and Worldreader Team Up for Giving Tuesday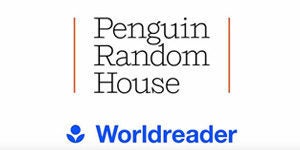 We are proud to announce that starting today, on Giving Tuesday, November 27, all purchases made through PRH.com will include a donation to Worldreader, our long-term partner organization that champions digital reading, especially in Sub-Saharan Africa. A $1 contribution for each purchase from Penguin Random House will ensure that one new eBook is made available to students in Worldreader programs. This special event will run for one week on PRH.com, from November 27 until December 4.
In addition to this Giving Tuesday pledge, Penguin Random House has renewed a donation of more than 500 diverse titles for use by Worldreader. This program will specifically support readers in Africa with more than 520,000 eBook titles for Worldreader's School Reading programs providing relevant and information digital books, teacher support and community engagement activities to improve the educational outcomes of students and encourage reading both inside and outside of the school. With this Giving Tuesday contribution, Worldreader will be able to offer an even more diverse and expansive array of eBooks to their readers.
"The idea behind Giving Tuesday is that when we all come together, we can achieve the unimaginable," said Worldreader's Director of Content, Susan Rimerman. "Partnerships like this one with our long-time partner Penguin Random House bring us one step closer to creating a world where everyone can be a reader. We're excited to work with a company that has spread the love of reading to millions to help foster the next generation of book lovers."
Posted: November 27, 2018