Penguin Random House and zulily Host Books for Kids' "Buy 1, Give 1" Campaign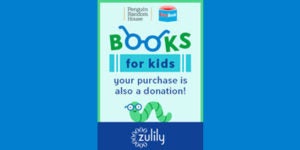 To kick off the season of giving while also celebrating National Family Literacy Month in November, zulily, the online retailer obsessed with bringing special finds to its customers every day, is teaming up with Penguin Random House to help provide books to children in need across the U.S. There's nothing quite like the immersive, imagination-inspiring power of books. Storytime is a treasured pastime for all, but many children may not have the opportunity to experience the magic of books.
Zulily is leading its third annual holiday giving campaign, launched November 1 and planned through December 12, 2018. Special sales events during the campaign will feature a curated selection of children's books and each Penguin Random House book purchased labeled with the "BUY 1, GIVE 1" badge will trigger a new children's book donation, up to 100,000 books, from Penguin Random House to First Book, a nonprofit social enterprise that provides new books and other essentials to children in need nationwide.
"This holiday campaign, created through our long-standing relationship with zulily, is a great way to support our community of readers," said Jaci Updike, President of Sales, Penguin Random House U.S. "Through this partnership with zulily, we're able to distribute books to communities in need through our charitable partner, First Book. At Penguin Random House, we are proud of our commitment to fostering a universal passion for reading and providing access to books in the communities and schools of parents and children who need them most."
To help efforts to provide children the gift of reading this holiday season visit zulily.com, and zulily's social pages: Facebook, Twitter, Instagram and Pinterest. Visit here for full campaign details.
Posted: November 5, 2018