Penguin Random House Announces Fall "Book the Vote" Initiative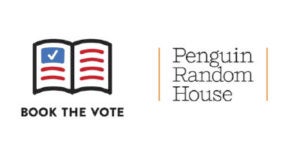 Penguin Random House is proud to announce Book the Vote, a new nonpartisan company-wide initiative to begin next month, aimed toward encouraging voter registration and voter turnout through author engagement, and by providing tools for brick and mortar stores across the country to create their own displays, community nights, and initiatives toward this shared goal.
The idea was born out of the excitement about the forthcoming publication of GLIMMER OF HOPE: How Tragedy Sparked a Movement (Razorbill and Dutton Adult, October 16), written by the March for Our Lives founders. These incredible students just completed their "Road to Change" tour, registering voters in 50 events across the country. Penguin Random House is excited to continue this initiative, and to inspire authors and bookstores across the country to get involved.
For our Book the Vote drive, Penguin Random House is partnering with HeadCount, an organization which has registered Americans to vote at concerts, music festivals, and cultural events since 2004; and helped create a national holiday for voter registration, involving more than 2,000 partner organizations. As such, the Book the Vote campaign's official kick-off will be on National Voter Registration Day on September 25th, when distinguished authors and Penguin Random House employees will be getting the word out via social media and Penguin Random House consumer platforms.
In addition, Penguin Random House and HeadCount will be working to set up voter registration drives at previously-scheduled major events throughout the fall with authors such as Hank Green and John Green, Jodi Picoult, Deborah Harkness, Marie Lu, DeRay Mckesson, Brad Meltzer, and Chip Conley participating.
"At Penguin Random House, we believe in the power of diverse and individual voices. We established Book the Vote to encourage every citizen to vote and to highlight how essential this civic duty is to our democracy and, of course, to free expression, which is the foundation for book publishing," said Madeline McIntosh, CEO, Penguin Random House U.S. "We are hopeful that together with our authors, employees, and retailers, we can help create a more democratic future for our readers."
Posted: September 4, 2018