Penguin Random House Announces the "Michelle Obama Award for Memoir"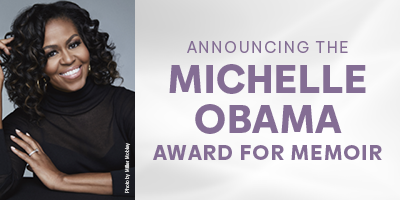 Penguin Random House today announces the Michelle Obama Award for Memoir, an annual creative writing award named in honor of Mrs. Obama within its signature Creative Writing Awards (CWA) program. The Michelle Obama Award for Memoir will recognize one high school senior who attends public school with a college scholarship of $10,000 for their original literary composition in English in the category of memoir/personal essay.
"I know firsthand how nerve-wracking it can be to share the most intimate stories from your life with the world," said Mrs. Obama. "But after publishing my memoir Becoming, I've learned that writing your own story can be a powerful tool. When we share the whole of ourselves, we offer others the opportunity to not only see us as we are, but maybe even think about themselves in a new way. This allows us to harness the things that set us apart and helps us see the world as the nuanced, messy, beautiful place that it is. That's why I am so excited about this new award, and I can't wait to read what this next generation of young writers will share with us all."
"Through her decades-long commitment to supporting educational opportunity and mentorship, Michelle Obama has established herself as a forceful champion of the creative potential of young people," says David Drake, President of Crown, the Random House imprint that published Becoming and will publish her forthcoming book, THE LIGHT WE CARRY. "Just as her own memoir Becoming inspired millions of readers of all generations to recognize the value of their own stories, we hope the Michelle Obama Award for Memoir will encourage students to discover and cherish the power of their own voice through storytelling."
The Penguin Random House Creative Writing Awards program chose to name its award for memoir/personal essay in recognition of Mrs. Obama's long-standing commitment to mentorship and education as well as her inspiring leadership in encouraging young people to discover the power of telling their own stories. The award commemorates the forthcoming publication of Mrs. Obama's new book THE LIGHT WE CARRY (Crown, November 15, 2022, $32.50) and her bestselling memoir BECOMING (Crown, 2018).
 Since 1993, the Creative Writing Awards program has awarded more than $2.8 million to public high school students for writing within five categories: original poetry (the Amanda Gorman Award for Poetry), memoir/personal essay (now the Michelle Obama Award for Memoir), fiction/drama, spoken word composition (the Maya Angelou Award for Spoken Word), and the NYC Entrant Award. In partnership with the grassroots non-profit We Need Diverse Books, the program empowers and celebrates hundreds of young writers each year and underscores Penguin Random House's commitment to identifying and nurturing new literary talent.
The 2022 competition launches on October 12 and closes on February 1, or until 1,000 applications have been reached, whichever occurs first. Current high school seniors who attend public school in the United States, including the District of Columbia and all U.S. territories, and are planning to attend college – either a two-year or four-year institution – in the fall of 2023 are encouraged to apply.
To apply and to read more about eligibility and rules, please visit this website: https://social-impact.penguinrandomhouse.com/our-awards/u-s-creative-writing-awards/
Winners will be announced and posted on the Penguin Random House Creative Writing Awards website at www.michelleobamabooks.com/scholarship in June 2023.
Posted: October 12, 2022