Penguin Random House Canada Gives Back with the Gift of Reading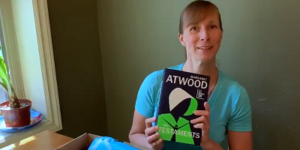 We all witness daily the heroic work being done by nurses on the frontline of the COVID-19 crisis, where they are working around the clock to care for the sick and vulnerable and protect the health of our communities. Our hearts go out to them and their patients, and yet for the past several weeks we've known the most important things we can do to support frontline workers and our vulnerable neighbours have actually been don'ts—don't continue going to the office as usual, don't get together with friends, don't go out any more than necessary. As a result, while working from home, staying indoors, and practicing distancing, we at Penguin Random House Canada, like many around the world, have felt a strong impulse to find something we could actually do, a positive way of showing our appreciation for frontline workers, and of giving back to those in need.
Thanking Ontario Nurses for Their Service
With Monday, May 11 marking the start of Nursing Week in Canada, an annual celebration recognizing nurses, we had the perfect opportunity to send that clear message of thanks and support to frontline workers. We eagerly joined forces with WeRPN, the association of registered practical nurses (RPNs) in Ontario, to contribute to care packages to be delivered to each of its over 13,000 members during the week of May 11. Together with beloved Canadian author Margaret Atwood, who was equally enthusiastic to participate, we contributed copies of her recent novel, The Testaments, to be included in each care package, which also contains gifts of tea, treats, and lotion from other major brand partners. Atwood signed off the large donation personally; "So pleased that #TheTestaments will find its way to these courageous nurses! Thank you for all you do," she said, sharing the launch of the #ThankYouNurses campaign with her followers on Twitter. "We at Penguin Random House Canada, like all Canadians, are immensely grateful for the vital work registered practical nurses are doing across the country every day," said our CEO Kristin Cochrane of the donation. "We salute them always, but especially for Nursing Week, where we are showing our gratitude and appreciation with the comfort of books."
Helping Our Neighbours through Food Banks at the Library
Another unfortunate consequence of the pandemic has been the closure of many regular food bank locations in Toronto, as a result of measures put in place to slow the spread of COVID-19. Faced with this civic challenge, the Toronto Public Library (TPL)—having experienced a shutdown of its own at the beginning of the pandemic, when all one hundred branches of the world's busiest public library system were closed in an effort to slow the spread of the virus—stepped up, and by mid-April, a total of nine neighbourhood branches had been set up as temporary food banks for families in need. Over 11,000 people have been helped by these pop-up food banks so far. After the critical need for food had been satisfied, though, another need remained: with schools and the library stacks themselves closed for the foreseeable future, and many homes lacking easy access to the internet or a personal library, some kids of families visiting the food bank were without access to reading material for education or enjoyment.
Now, despite the temporary hold placed on library lending by the pandemic, young readers who need them are regaining access to books, thanks to a joint effort by our company and the Toronto Public Library Foundation. Having recognized the need not only among families who visit the library system's pop-up food banks, but also among families in Toronto shelters, whose children are similarly missing books, we donated 2,000 books for young readers for the library to include in food hampers being distributed from its branches, and to send to shelters in the city. Our contribution is being made as part of a matching campaign orchestrated by the Foundation, so that for every 500 books they purchase using donations from members of the public, we pledge to donate 500 books of our own. Combined with the efforts of other partners, the Foundation expects to be able to donate 8,000 books to kids in need.
We hope that, despite the disruption the pandemic has caused in the lives of so many Canadians, the books we've sent to our Ontario RPNs and Toronto families will bring their readers some comfort. As Kristin reflects, "books offer not only an escape from the day-to-day, but a source of renewal and inspiration, and of well-documented health benefits, including for our mental health; at the same time as offering solace from the stresses of work and life, reading can refresh our perspective on the world and our role in it."
Posted: May 27, 2020