Penguin Random House Canada Has 3 of 5 Weston Prize for Nonfiction Shortlist Nominations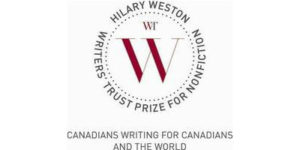 In an impressive display of recognition for both Penguin Random House Canada and the breadth of the company's nonfiction publishing, three authors (out of five nominated authors) have been announced today to the shortlist for this year's Hilary Weston Writers' Trust Prize for Nonfiction:
Elizabeth Hay for ALL THINGS CONSOLED: A DAUGHTER'S MEMOIR, published by McClelland & Stewart, and edited by Martha Kanya-Forstner.
Terese Marie Mailhot for HEART BERRIES: A MEMOIR, published by Doubleday Canada, and edited by Kiara Kent.
Judi Rever for IN PRAISE OF BLOOD: THE CRIMES OF THE RWANDAN PATRIOTIC FRONT, published by Random House Canada, and edited by Anne Collins.
They join fellow nominees:
Will Aitken for ANTIGONE UNDONE: JULIETTE BINOCHE, ANNE CARSON, IVO VAN HOVE, AND THE ART OF RESISTANCE (University of Regina Press), and Lindsay Wong for THE WOO-WOO: HOW I SURVIVED ICE HOCKEY, DRUG RAIDS, DEMONS, AND MY CRAZY CHINESE FAMILY (Arsenal Pulp Press).
The Hilary Weston Writers' Trust Prize for Nonfiction is given annually for excellence in the category of literary nonfiction, which includes essays, history, biography, memoir, commentary, and criticism. The winning book demonstrates a distinctive voice, as well as a persuasive and compelling command of tone, narrative, style, and technique.
The jury this year is comprised of Donna Bailey Nurse, Michael Harris and Joel Yanofsky.
The winner will be named on November 7. Click here for more details.
Posted: September 20, 2018