Penguin Random House Canada Recognized as a Greater Toronto Top Employer for 2020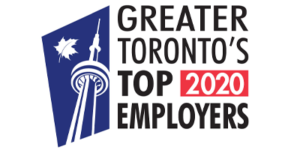 Penguin Random House Canada has been recognized as one of Greater Toronto's Top Employers for 2020. The accolade, given annually for the past fourteen years through Canada's Top 100 Employers to companies that set the standard for workplace best practices and forward-thinking policies, is awarded based on a rigorous evaluation of criteria ranging from employee benefits, vacation, and time off to work atmosphere to community involvement.  Now in its 20th year, Canada's Top 100 Employers project is the nation's largest competition of its kind.
Penguin Random House Canada, the country's largest book publisher, is headquartered in downtown Toronto, where it employs over 200 people, with additional locations in Mississauga and Vancouver. Under the leadership of Kristin Cochrane, who became CEO in July 2018, the company is committed to being the best home for publishing talent through a comprehensive range of employee-centric policies and programs.
Among the highlights of Penguin Random House Canada's notable offerings are a defined benefit plan and registered retirement savings plan matching program, a student loan repayment program, an industry-leading mental health and social work annual benefit, and an annual wellness reimbursement to encourage physical fitness. Development programs including a mentor-match system, in-house training opportunities, and a generous educational assistance program for job-related learning are also available to support employees in advancing their careers and enhancing their contributions to the company story.
Another notable benefit of working at Penguin Random House Canada—paid volunteer days—reveals a central theme: giving back. Employees have numerous opportunities to use their volunteer days with the company's community partners across Canada, including the Indigenous Voices Awards, the Festival of Literary Diversity (FOLD), and First Book Canada, in partnership with whom Penguin Random House Canada has donated over 150,000 books to children from low-income families in Canada this year alone (and over 1.4 million books over the past seven years).
On receiving news of the award, Cochrane said: "We are extremely honoured to be recognized as a GTA Top Employer for 2020. We're committed to putting employees at the centre of our decision-making and I'm proud of our ongoing commitment to our communities with both the books we publish and the social impact work we do in important areas such as Indigenous writing and children's literacy."
Adds Anika Holder, Vice President and Director, Human Resources: "A culture of inclusion is essential to safeguarding community, and community is a big part of who we are. It's rewarding to have our workplace recognized for the support we have in place for our employees, and to have their contributions to a strong company culture recognized in this manner."
More information about the award can be found here.
Penguin Random House Canada on publication day for THE TESTAMENTS and celebrating the Toronto Raptors NBA championship (2019).
Posted: December 6, 2019