Penguin Random House Canada Recognized as one of Canada's Top Employers for 2023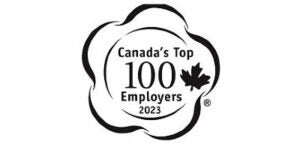 Penguin Random House Canada is extremely proud and honored to announce that it has once again been recognized as one of Canada's Top Employers. The honor, given annually since 2000 through Canada's Top 100 Employers to employers who set the standard for workplace best practices and forward-thinking policies, is awarded based on a rigorous evaluation of criteria ranging from employee benefits and vacation time to work atmosphere and community involvement. Now in its 23rd year, the Canada's Top 100 Employers project is the nation's largest competition of its kind.  
Penguin Random House Canada's commitment to give back to our communities puts books in the hands of readers of all ages across the country. Last year we were able to support and work with over 40 charitable organizations and donated over 157,000 books to groups such as First Book Canada, Read for the Cure, Second Harvest, and Little Free Diverse Libraries. The company also offers matching on all employee donations, including double matching on Giving Tuesday. Last year's Giving Tuesday initiative alone raised over $25,000 for local charities. 
On receiving news of the award, Kristin Cochrane, Penguin Random House Canada's CEO said: "I am truly honoured to be part of this group of amazing colleagues who have made today's acknowledgement of Penguin Random House Canada as one of Canada's Top Employers for 2023 possible. This external recognition of our company as not only the most attractive publishing house for our incredible authors and illustrators, but also as a leading Canadian employer makes me truly proud, just as I'm proud of the work our colleagues do every day to publish diverse stories and provide new and accessible pathways into the publishing industry for authors and employees." 
Adds Anika Holder, Vice-President, Human Resources: "I am so delighted to work alongside colleagues who are as passionate about words and bringing wide-ranging stories to the world as they are about being part of an inclusive, diverse, equitable, and accessible workplace. As we continue to build our community and cultural life, we remain laser focused on care, curiosity, flexibility, and belonging. Receiving this achievement again this year is a gratifying acknowledgement of our efforts in centering our employee needs in our decision making and programs, even as we continue to listen, learn, and grow." 
For more information about Penguin Random House Canada's award, click here. A very big congratulations to our colleagues!
Posted: November 20, 2022