Penguin Random House Celebrates International Literacy Day With Worldreader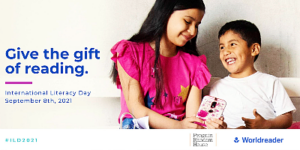 International Literacy Day (ILD) 2021 will be celebrated under the theme "Literacy for a human-centred recovery: Narrowing the digital divide." Back in 1967, UNESCO officially proclaimed September 8 International Literacy Day to "actively mobilize the international community and to promote literacy as an instrument to empower individuals, communities and societies" (Unesco).
To honor International Literacy Day, Penguin Random House is joining with our longstanding partner organization, Worldreader, which champions digital reading, especially in Sub-Saharan Africa. For every book purchased on PRH.com, PRH US will donate $1 to Worldreader, up to $10K.
Our company is proud to help advance literacy around the world. We have donated hundreds of licenses for Worldreader e-reader programs in sub-Saharan Africa, linking literature of all reading levels and age groups to schools and libraries throughout the region. In 2016, we also launched our exciting Author Ambassador program, which connects renowned writers to Worldreader-affiliated schools.
Together, Penguin Random House and Worldreader help create a world where everyone is a reader. Visit Worldreader and Penguin Random House Social Impact site to learn more about how we are committed to creating the next generation of readers around the world.
At the forefront of our social impact commitments are programs offering books to people in communities where few are available. We have the extraordinary opportunity to contribute and commit to projects and partnerships that have a meaningful and lasting impact beyond the books we publish.
Posted: September 8, 2021