Penguin Random House Education Announces #DisruptTexts and Penguin Classics Partnership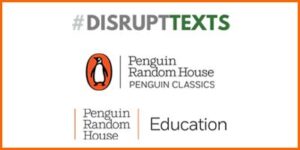 In honor of their 75th anniversary, Penguin Classics has partnered with #DisruptTexts, a renowned education organization that works to create a more inclusive, representative and equitable language arts curriculum for K-12 students.
Facilitated by Penguin Random House (PRH) Education, this partnership includes a number of new initiatives focused on connecting with, and supporting, educators through innovative programming; online events for vital dialogue and teacher community discussion; and new educator resources for guiding student reading and discussion of traditional and "new" classics in-and-out of the classroom.  
Elda Rotor, Vice President & Publisher at Penguin Classics, said: "There is no better place to test the relevance of a Penguin Classic than in the classroom, where students and educators keep books from the past alive with active engagement, inquiry, discovery, and disruption. We are thrilled to partner with the founders of #DisruptTexts who guide teachers with such inspiring pedagogy and advocacy for a rich diversity of storytelling, voices, and experiences."
Julia Torres of #DisruptTexts added: "All students deserve an education that is inclusive of the rich diversity of the human experience. With the creation of these guides, and through our ongoing partnership with PRH Education and Penguin Classics, we look forward to engaging in conversations with students and those who support them as we work together to create a more restorative and inclusive role for these works in 9-12 classroom settings."
Initiatives and resources include: original educator guides authored by the #DisruptTexts team, to be made available as free, downloadable educator resources on PRHSecondaryED.com; a virtual educator event to be hosted by the National Council for Teachers of English (NCTE); an online discussion panel to be hosted by publisher Penguin Classics featuring Min Jin Lee, author of the novel Pachinko; and a number of other collaborative programming and resource-based initiatives in development. Each of these initiatives will revolve around the essential question "what is a classic?" in order to broaden the scope of which texts are considered traditional literary canon.
The aforementioned educator guides will be for four Penguin Classics texts that have been overlooked in secondary classrooms that are representative of BIPOC communities, including: Passing by Nella Larsen; Monkey King by Wu Cheng'en; Ceremony by Leslie Marmon Silko; and The Penguin Book of Migration Literature edited by Dohra Ahmad. Each of these guides will be published on the PRH Education Secondary website to be used in perpetuity as resources for K-12 educators. Information regarding the events will also be announced on the PRH Secondary Education website, as well as Penguin Classics and #DisruptTexts social media accounts.
On facilitating the partnership, Spenser Stevens , Marketing Manager at PRH Education, said: "This ongoing partnership with #DisruptTexts and Penguin Classics will provide a unique opportunity to support high school educators in enriching their curriculum with often-overlooked texts. This joint initiative advances PRH Education's mission of fostering literacy, learning, and storytelling in the classroom."
Posted: November 1, 2021