Penguin Random House Goes to San Diego Comic-Con 2017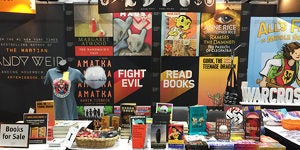 Penguin Random House's array of multiple booths at San Diego Comic-Con 2017 was a magnet for many of the more than 130,000 enthusiastic attendees who were thrilled to roam the world-renowned event, July 20-23.    
Among our key participant publishing groups, imprints and franchise brands were Del Rey, Minecraft, Star Wars, Crown, Knopf Doubleday, Random House Children's Books, Penguin Publishing Group, Penguin Young Readers, Penguin Random House Audio, DK, and Prima.  Their wide-ranging fun stuff and giveaways were highlighted by numerous author signings, including Andy Weir (ARTEMIS), Charlaine Harris (MIDNIGHT CROSSROAD), John Hodgman (VACATIONLAND ), Marie Lu (WARCROSS), Max Brooks (MINECRAFT: The Island), Christie Gold (STAR WARS: Battlefront II: Inferno Squad), Daniel H. Wilson (THE CLOCKWORK DYNASTY), Leigh Bardugo (WONDER WOMAN: Warbinger), Pierce Brown (RED RISING), Daryl Gregory (SPOONBENDERS), and Cavan Scott (LEGO DC COMICS SUPER HEROES: The Awesome Guide).
Especially notable for us was the Comic-Con awards ceremony, where Pantheon artist and illustrator Sonny Liew won three Eisner Awards, "the Oscars" of the comic book industry.
For a pictorial of Penguin Random House's presence at San Diego Comic-Con 2017, enjoy the selection of photos below.
Posted: July 31, 2017