Penguin Random House Has Impressive Presence at San Diego Comic-Con 2018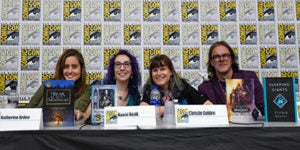 Penguin Random House had another successful year at San Diego Comic-Con 2018. With record breaking sales and over forty in-booth author signings, the Con was a perfect opportunity for our divisions to engage face-to-face with fans. Featured items included Tim Zahn's THRAWN: Alliances Con Edition which could also be purchased as a bundle with a very special audiobook edition, plus freshly designed Fight Evil, Read Books t-shirts, designed by Pantheon author and Eisner Award winner Sonny Liew.
Additionally, Penguin Random House Comic-Con Mystery Boxes were sold for the first time at this show. With six participating divisions, each box includes two paperback or mass market science fiction or fantasy books, a Penguin journal, and a few additional marketing items. Over two hundred boxes were sold with more available for sale at the upcoming New York Comic-Con.
Fans lined up to meet authors such as Deborah Harkness (TIME'S CONVERT), Naomi Novik (SPINNING SILVER), Andy Weir (ARTEMIS), Edgar Cantero (MEDDLING KIDS), Marie Lu (WARCROSS), and more. Our authors could also be spotted on a number of panels throughout the show.
And finally, for the first time ever, Out of Print exhibited with the publishers in an adjacent booth selling an array of Science Fiction and Fantasy inspired apparel.
With over ten thousand impressions through sales, advance readers copy giveaways, and author appearances, Penguin Random House was hard to miss!
Posted: July 26, 2018