Penguin Random House & Kundiman Launch Publishing Panels for Asian American Writers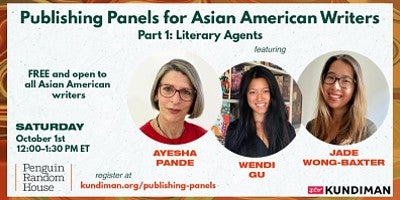 As part of our ongoing partnership with Kundiman, an organization dedicated to nurturing generations of writers and readers of Asian American Literature, Penguin Random House is excited to sponsor a series of free publishing panels for Asian American writers. The series will include three free publishing panels featuring, respectively, Asian American editors, agents, and publicists, hosted by Kundiman staff. Each session will last 90 minutes.
Kundiman will kick off the series on Saturday, October 1st, from 12:00–1:30pm ET with a moderated conversation between three accomplished literary agents: Wendi Gu (Sanford J. Greenburger Associates), Ayesha Pande (Ayesha Pande Literary), and Jade Wong-Baxter (Frances Goldin Literary Agency). It will be held via Zoom webinar, and there will be time for Q&A following the conversation.  It will also include captioning and ASL interpretation. To register, please click here!
The remaining panels will take place in 2023. Please stay tuned for more details to come.
Posted: September 28, 2022