Penguin Random House Launches Book the Vote to Combat Disinformation and Increase Voter Turnout This Election Season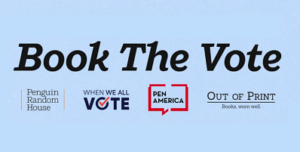 Ahead of the November elections, Penguin Random House, PEN America, Out of Print (OOP), and When We All Vote are launching Book the Vote, a nonpartisan initiative to protect free speech and ensure every voter's right to participate in elections. Building upon an already successful program from the 2018 midterm elections, Book the Vote unites the organizations' distinct initiatives under one centralized website, bookthevote.com. By creating and disseminating book and author content, voter registration information, and resources to increase understanding of civic topics, Book the Vote empowers people to participate in our democracy and express their voices through voting.
Madeline McIntosh, CEO of Penguin Random House U.S., said, "We are thrilled to announce our Book the Vote campaign and website, and to join with PEN America to promote understanding of, and participation in, the election process for every voice and every voter. Through the books we publish, we strive to contribute to a world where independent thinking and free expression are protected, not just for this current election season, but for the generations of voters to come."
As part of the initiative, Penguin Random House is enlisting more than 20 bestselling authors, including Deepak Chopra, Jeffrey Toobin, and Kyle Creek, to make sense of America's history and politics through engaging and informative videos based on their books. "How America Works" will cover four topics: The Right to Vote, Voting for the President, the Supreme Court, and the Electoral College.
PEN America's #FreeSpeech2020 initiative, which seeks to combat disinformation, defend press freedom, and fight online harassment, will live alongside Penguin Random House book and author content. The literary and free expression group has also featured Penguin Random House authors including Brit Bennett, Alan Cumming, Kali Fajardo-Anstine, Neil Gaiman, Anita Hill, Susan Orlean, in a video series to prepare Americans for what to expect this fall. A portion of sales from each OOP's Get PoLITical collection will continue to be donated to PEN America's #FreeSpeech2020 campaign.
"Truth, facts, press freedom, and the future of open discourse are all on the ballot this November," said PEN America CEO Suzanne Nossel. "We are pleased to be working with Penguin Random House to disseminate credible, authoritative information that will help Americans know what to expect when they are electing and what is at stake as they exercise their constitutional right to vote."
The Partnership with PEN America, When We All Vote, and Out of Print Features Curated Content to Empower Voters
Posted: October 12, 2020