Penguin Random House Partners With Harlem Grown to Provide Books to Underserved Communities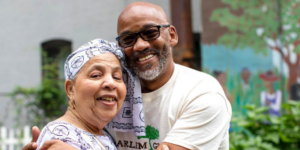 Beginning this month, Penguin Random House is partnering with Harlem Grown, a remarkable organization serving the children of Harlem by offering resources, inspiration, and a safe place where they can just be kids.
Harlem Grown, which was recently profiled by Humans of New York, seeks to help young people – many of whom live in the community's homeless shelters – lead healthy and ambitious lives through mentorship and education in urban farming, sustainability, and nutrition. One of the many ways they fulfill this mission is by raising support for the physical renovation of abandoned lots in Harlem, transforming them into thriving urban farms.
In partnership with Harlem bookstore and learning mecca Grandma's Place, and supported by Humans of New York's extraordinary fundraising efforts that raised more than $850,000 for the cause, Harlem Grown is building twelve libraries on their urban farms across the community.
Penguin Random House will curate and stock these libraries, committing more than 10,000 books a year so children have access to stories that uplift, empower, and inspire them to dream big.
For questions about this partnership, or to learn more, contact Carly Gorga or Veronica Valerio.
Posted: October 12, 2021