Penguin Random House Partners with Reading is Fundamental for "Rally to Read 100"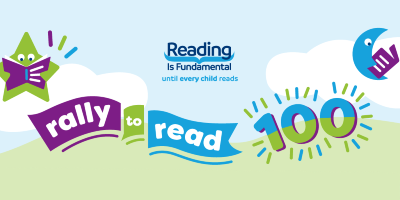 Penguin Random House is partnering with Reading is Fundamental (RIF) on their second annual Rally to Read 100 (RallytoRead.org)—a six-month initiative that runs from October 1, 2022 to March 31, 2023 designed to  motivate children to read, starting with a pledge to read 100 books.
Over the course of this six-month campaign, more than 20 read-alouds from contributing publishing partners and specially selected Barnes & Noble Storytime Picks will be shared from notable and diverse authors and illustrators, including Emily Calandrelli (REACH FOR THE STARS), Rio Cortez (THE ABCS OF BLACK HISTORY), Trudy Ludwig, RHCB Author, (BRAVE EVERY DAY), Peter H. Reynolds (OUR TABLE), Chad and Dad Richardson (FAMILY UNION) and Hudson Talbott (A WALK IN THE WORDS). For elementary school classrooms and libraries, RIF is bringing back the Rally to Read book sweepstakes, giving away 10,000 diverse books in which elementary school educators have the chance to win 100 high-quality books for their school or youth-serving organization. Thank you to RHCB for the generous donation of books and also to their authors for their participation.
In addition the featured read-a-loud each month there will be one or two additional read-alouds in a section of their website called "Explore" where they provide more content to support the theme. Featuring RHCB authors,  Alexandra Penfold (October), Minh Lê (November), Carole Boston Weatherford (December) , Trudy Ludwig (January) , Jazmyn Simon (February) , Chris Sickles (March).
The themes are:
October: Community
November: Family
December: Diversity
January: Wellness
February: Celebration
March: Innovation
For more information on RIF Rally to Read 100 please click here.
Posted: October 1, 2022