Penguin Random House South East Asia Unveils Debut Publishing Program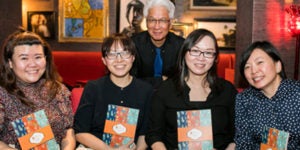 Penguin Random House South East Asia has unveiled its first publishing catalog and plans to publish more than 90 titles from various genres this year, beginning in April. The announcement of the program marks a key milestone in the history of this Penguin Random House subsidiary, which was founded in October 2018.
Featuring a curated mix of new and established as well as local and international authors, the initial selection includes adult and children's fiction and nonfiction. The titles will be published in English in Singapore, Malaysia, Thailand, Indonesia, Vietnam, Brunei, Cambodia, Laos, Myanmar, and the Philippines. Because the further opening of the Southeast Asian market for international literature is to be accompanied by the promotion of local writers, the authors in Penguin Random House SEA's debut catalog include literary voices from Singapore, Malaysia, Indonesia, the Philippines, Korea, and India, as well as the United States.
At the presentation of its first catalog, the company also announced its cooperation with selected distribution partners. Times Distribution will undertake distribution for Singapore, Malaysia, and Brunei while Alkem Distribution Centre will be responsible for the rest of South East Asia.
The adult nonfiction features a comprehensive selection of books on economy, self-help, business management, spirituality, global issues, technology and much more. The fiction section for adults is a mix of exciting works in thriller, fantasy, essays and anthologies, drama, short stories and other genres.
Penguin Random House SEA also has a major focus on children's and young-adult literature. With a view to encouraging a love for reading, the children's category in the catalog features books for ages between six and twelve years and covers a wide variety of learning, character-building and interactive stories, and school adventures. New editions of popular classics for young and adult readers round out the debut publishing program.
Commenting on the launch, Gaurav Shrinagesh, CEO, Penguin Random House India and SEA, says, "Unveiling the debut publishing catalog is one of our key milestones in setting up operations in the South East Asian market. Observed as one of the most promising publishing regions, South East Asia has a strong publishing landscape and we see great potential to grow with the developments in this market and its demographics to eventually expand across languages and genres. The books we intend to publish this year will complement Penguin Random House's English-language publishing programs worldwide. Our publishing catalog has been carefully built with stories that will not only resonate with the society, people, and culture, but also enrich the world at large with the literary creativity of the region."
Nora Nazerene Abu Bakar, Executive Editor of Penguin Random House SEA, adds, "Our selection of books for 2019 is a thoughtful assortment of written words to satiate the reading interests of a wide audience. We want to be able to bring something to everyone, to tell stories that inspire, entertain and inform. We are also strengthening platforms for debut writers to unveil their work to larger book-loving communities, making room for their work to stand out and marketing them to attract a wider readership."
Posted: March 6, 2019