Penguin Random House Speakers Bureau Unveils New Website Design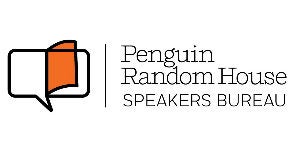 The Penguin Random House Speakers Bureau is proud to share their newly designed website, www.prhspeakers.com.  Officially unveiled on June 19th in time for the American Library Association's annual conference in Chicago, this is the first major redesign since the combined Penguin Random House Speakers Bureau site was introduced in 2014.  
The site's exciting new features include:
Search and browse by location makes it easy for clients to find local voices.
Audiobook excerpts allow visitors to hear speakers reading their works.
An expanded homepage has spots to feature new speakers, speakers in the news, new books, and videos.
Lists of programming ideas to assist clients who want to build lectures and events around themes like "Take Your Kids to Work Day," "Veterans Day," "Library Audiences," and "Speakers for Students and Schools."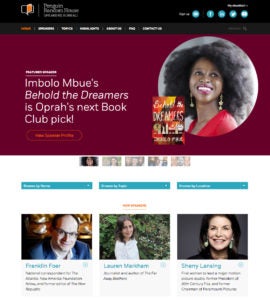 Who do we work with? The Speakers Bureau represents over 300 Penguin Random House authors, including Pulitzer Prize winners Ron Chernow, Jennifer Egan, and Colson Whitehead, and bestselling authors Gillian Flynn, John Green, R.J. Palacio, and Cheryl Strayed. From historians (Isabel Wilkerson) to creative innovators (Dave Evans and Bill Burnett), from experts in international politics (Masha Gessen) to domestic healthcare (Elizabeth Rosenthal), and from nonprofit heroes (Bryan Stevenson) to recalibrated warriors (Travis Mills), our speakers cover a wide range of motivational and informative topics. Often, the Bureau's relationship with its speakers begins before publication and continues throughout their thriving careers.
Where are speakers heard? Last year, the Speakers Bureau organized more than 750 events that reached over 500,000 people, at libraries, universities, Fortune 500 companies, trade associations, and conferences.
Who are we? The Penguin Random House Speakers Bureau's 17 dedicated team members are all embedded in different groups and imprints, while working together as one team to find the right PRH speaker to fit every event.  Team members collaborate closely with colleagues in Publicity, Academic Marketing, Library Marketing, and Special Markets.
Posted: July 5, 2017