Penguin Random House Teams with lululemon to Create a "Cozy Pop-Up Library" in NYC's Flatiron Building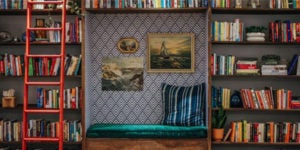 Penguin Random House has partnered with lululemon, the pioneering technical athletic apparel company, to launch a cozy pop-up library in lululemon's HUB Seventeen community space in NYC's Flatiron building. The pop-up library is an opportunity to connect Penguin Random House books and authors with wellness-focused readers, yoga enthusiasts and other mindful consumers.
Citing Penguin Random House's "extraordinary list of published books," the lululemon curated collection features more than 1,000 books, representing the whole of Penguin Random House's list, including fiction, narrative nonfiction, and business, along with health, fitness, food, and mindfulness. In addition to titles on the shelves, there are devices available for customers to listen to audiobook editions.
The pop-up library is open to the public through this spring, and during that time, lululemon and Penguin Random House will host special book and author events, including celebrity book readings and curated food experience presentations (information about specific appearances will be shared when available).
For more about PRH's exciting partnership with lululemon, see some of the recent news coverage: Business Insider, FINTECH INSIGHT, Fashion United, Guest of a Guest, PYMENTS.com, and Retail Dive.
Check back on Igloo in the coming days for event updates and details.
Top image credit: lululemon
Posted: January 9, 2019