Penguin Random House to Publish Digital Cookbook to Aid America's Restaurants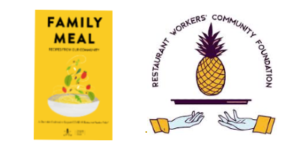 In an effort to support America's restaurant industry, Penguin Random House will publish FAMILY MEAL: Recipes from Our Community, a digital-only charitable cookbook, the proceeds of which will benefit restaurants and their workers. The book will go on sale May 5, and is available for preorder now.
From the FAMILY MEAL introduction, Madeline McIntosh:
"As a New Yorker, I believe I'm not alone in sharing that March 15th – the day restaurants were ordered to close – was the day it felt like our city was put on hold . . . Whether plain or fancy, traditional or trendy, cheap or insanely expensive, our restaurants are the lifeblood of our cities. In the busy and stress-filled days and nights of modern life, these are the places we go to pause, to talk, to celebrate, to commiserate: to live."
From Ligurian Focaccia to Shrimp and Chorizo White Bean Stew to Miso Milk Bar Pie, FAMILY MEAL features more than 40 exclusive recipes by chefs and home cooks published across Penguin Random House, including Samin Nosrat, Dan Barber, Alison Roman, Kwame Onwuachi, Christina Tosi, Danny Trejo, Claire Saffitz, and more. For further information about the chefs and bakers behind FAMILY MEAL, click here.
All proceeds from FAMILY MEAL will benefit the RWCF COVID 19 Crisis Relief Fund, which supports on-the-ground efforts in the restaurant community.
From the foreword by John deBary, Restaurant Workers' Community Foundation co-founder, and author of the forthcoming DRINK WHAT YOU WANT, on sale in June:
"With restaurants closing, many for good, it's no longer possible to ignore just how many people have been one or two bad shifts away from catastrophe. Our COVID-19 relief fund [is] supporting the needs of restaurant workers, from food security, mental health, legal assistance, and immigration; and establishing a zero-interest, no-collateral loan program for small businesses to get their doors open again. My hope is that though the impact of this virus has brought about devastating loss, it has helped more and more people come to realize just how vital the restaurant industry is to our lives."
Posted: April 16, 2020