Penguin Random House Touts Sci-Fi & Fantasy Titles and Authors at Emerald City Comic Con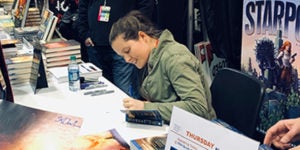 Last week in Seattle, readers attending Emerald City Comic Con had a special opportunity. In partnership with ReedPOP and the Emerald City Comic Con Writer's Block Program, Del Rey and Penguin Publishing Group hosted exclusive book club events during the show. Penguin Publishing Group selected SALVATION DAY by Kali Wallace (Berkley, on sale July 9) as the featured title for the science fiction book club. Del Rey selected GODS OF JADE AND SHADOW by Silvia Moreno-Garcia (on sale August 6) as the featured title for the fantasy book club.
The flood of interest was fantastic. Many readers applied for the opportunity to attend and 60 were randomly selected for each session. They received an advanced copy of SALVATION DAY or GODS OF JADE AND SHADOW ahead of ECCC with enough time to prepare.
At the book club event, readers came together for a thoughtful discussion. The science fiction book club was moderated by Lish McBride, a local Seattle-based YA fantasy author and bookseller at Third Place Books. The fantasy book club was greeted by Del Rey VP & Editorial Director Tricia Narwani, and then divided into five groups of 8-10 attendees. Each discussion group was joined by a moderator from the Del Rey and Penguin Random House team, who lead the conversation and gave attendees brief insights into their own publishing careers.
Attendees also received an awesome gift bag including finished books, ARCs, and book swag from PRH. We were delighted by the spirited and interesting discussion amongst attendees, and many asked to repeat the event again next year! We look forward to hosting events like this at future shows including BookCon and New York Comic-Con.
In addition to hosting the book clubs, Penguin Random House acted as Book Wizards, helping attendees find their perfect next read through a series of questions via a special website. A book was revealed at the end of the process and the attendee received an ARC. As always, our booth was a destination on the show floor with author signings by Katherine Arden, Robin Hobb, Delilah S. Dawson, Rachel Caine, Blake Crouch, and more!
Posted: March 22, 2019