Penguin Random House's AFROPUNK Festival Debut is a Big Success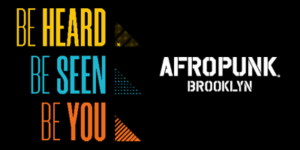 Penguin Random House had a big presence at this past weekend's AFROPUNK , August 24-25, at Commodore Barry Park in Brooklyn. As an AFROPUNK sponsor for the first time and the festival's sole book publisher, Penguin Random House spent two full days engaging with a vibrant audience excited to learn about our books, buy as many as they could, and also hear about the different kinds of career opportunities at our company.
"The festival had a positive, inclusive of all people, and energetic vibe, rooted in the idea that all voices deserve to be heard," said Lindsey Elias, Associate Director, Consumer Shows and Conferences. Porscha Burke, Senior Editor, Publishing Manager, Random House, added, "AFROPUNK was an exceptional opportunity to celebrate the African American community and its contribution to the broader culture—and showcase the outstanding work of our authors committed to doing the same."
The Penguin Random House Rock N' Read tent—centered around the theme "Be Heard, Be Seen, Be You"—was a popular destination for festival-goers to grab a free advance copy of one of our books, listen to audiobook samples, and shop in our bookstore curated by WORD. Nestled exactly midway between booths hosted by the New York Times' "1619 Project" and Spike Lee's 40 Acres and a Mule, the PRH booth enjoyed a constant flow of book lovers, librarians and teachers, writers, and influencers all thrilled for this unique opportunity to engage in authentic conversations about our books, about working in publishing, and about paths to get their own works published.
In addition to the highlights shared live on PRH social channels, AFROPUNK blasted our booth programming on their Instagram page (with nearly one million followers) and via their festival app. (Highlights can be found by clicking on Day One and Day Two.)
Our author appearances were a big hit. Festival-goers were excited to have the opportunity to meet, face-to-face, such authors as Tochi Onyebuchi (WAR GIRLS), Elaine Welteroth (MORE THAN ENOUGH: Claiming Space for Who You Are (No Matter What They Say) ), Mya Spalter (ENCHANTMENTS: A Modern Witch's Guide to Self-Possession), and Camryn Garret (FULL DISCLOSURE). Even Marlon James made a sneak appearance—he wasn't scheduled, but came through to see what we were up to after hearing the buzz!
There were long lines for our giveaway titles, including Ta-Nehisi Coates' THE WATER DANCER (One World), Jacqueline Woodson's RED AT THE BONE (Riverhead) and Kiley Reid's SUCH A FUN AGE (Putnam). Festival-goers thought it more than a fair exchange to sign up for our newsletters in order to obtain advance copies of these books not yet available to the general public.
People picked up a ton of tote bags featuring One World, Make Me A World, Reader Rewards, and Berkley's THE CARE AND FEEDING OF RAVENOUSLY HUNGRY GIRLS. Other popular giveaways included sunglasses, buttons of all kinds, chapter samplers, and fans printed with statements echoing our theme: "Hear Me," "See Me," and "Be Me." Each division contributed swag, volunteer staff, and resources to help ensure a full representation of our publishing programs.
Books sales at the PRH Rock N' Read tent were strong, with several titles selling out by the end of the second day. More than 150 people received a free copy of One World's HOW TO BE AN ANTIRACIST by Ibram X. Kendi as a special "gift with purchase." (Many wanted to purchase the book on its own and thought it an extraordinary treat to be able to take two titles home instead!)
Many snapped selfies in the special AFROPUNK Instagram booth, whose theme was, "Share Black Stories," and also listened to Penguin Random House Audio audiobook clips featuring Michelle Obama and Dapper Dan at the PRH audiobook listening stations.
AFROPUNK represents an influential community of gifted creatives from all backgrounds who express themselves through music, art, film, books, comedy, fashion and more. Originating with the 2003 documentary that highlighted a Black presence in the American punk scene, AFROPUNK is actively redefining the urban experience by centering the unwritten, unwelcome, and unheard-of.
Porscha Burke adds, "Joining AFROPUNK in their effort to respectfully center, serve, and listen to a community far too often shoved into the margins was an unparalleled occasion and yielded insights on which we can build future marketing, publicity, editorial, and recruitment initiatives. I am so excited about what we'll be able to accomplish with all our learnings!"
A big thank you to all of the Penguin Random House colleagues who participated and volunteered—making this a successful opportunity to meaningfully connect with this brilliant audience in dynamic new ways!
Posted: August 28, 2019