Penguin Random House's Must-See Presence at San Diego Comic-Con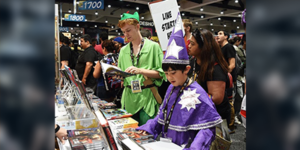 Penguin Random House celebrated the 50th anniversary of San Diego Comic-Con with record-breaking sales, over 40 in-booth signings, and countless face-to-face interactions with fans. Featured sales and promotional items included Timothy Zahn's THRAWN: TREASON Con Edition, which could be purchased as a hardcover or an audiobook edition; Dungeons & Dragons character creation kits; "Be More RBG" pins from DK; a DUNE series box; early on-sale copies of Pierce Brown's DARK AGE; plus the latest Fight Evil, Read Books t-shirts, designed by Leela Coleman and in collaboration with Pantheon, received an enthusiastic response. Out of Print exhibited once again this year in an adjacent booth, boasting strong sales for their Star Wars collection and Little Golden Books.
Fans lined up to meet authors such as Blake Crouch (RECURSION), Erin Morgenstern (THE STARLESS SEA), Randall Munroe (HOW TO: Absurd Scientific Advice for Common Real-World Problems), Christopher Ware (RUSTY BROWN), Kiersten White (THE GUINEVERE DECEPTION), and many more. Max Brallier and illustrator Douglas Holgate (THE LAST KIDS ON EARTH) met and signed together for the first time!
Our authors could also be spotted on a number of panels throughout the show. This included a live reading from the book/audiobook MUCH ADO ABOUT MEAN GIRLS by Ian Doescher, complete with Elizabethan verse, iambic pentameter, Shakespearean verse, and lots of pink shirts, to a standing room only crowd at the 250-seat Horton Theater. Audiobook narrators Karissa Vacker and Vikas Adam reprised their roles as Cady and Damian, while Jorjeana Marie played Janis Ian, Catherine Taber played Gretchen Wieners, and PRH Audio's Nick Martorelli and
Nicole Morano joined on stage in various roles.
To check out videos of some of the panels, click here.
Additionally, Penguin Random House Comic-Con Mystery Boxes were sold for the second year in a row. The boxes this year included two paperback or mass-market science fiction or fantasy books, an Advance Reader Copy, and a few additional marketing items. Attendees could choose a box based on
genre, their options being Young Adult Fantasy, Buzz Follower Fantasy, Buzz Follower Science Fiction, Classic Science Fiction and Fantasy, and Ladies First which featured strong female lead characters. We sold out of over 200 boxes, with more available for sale at the upcoming New York Comic-Con.
With our strongest sales to date, advance reader copy giveaways, author appearances, and many engaging activities Penguin Random House is a must-see on the SDCC show floor with many attendees returning to engage with us year after year.
Posted: July 25, 2019