Penguin Workshop Launches The Who Was? Podcast With iHeartMedia and Radio Point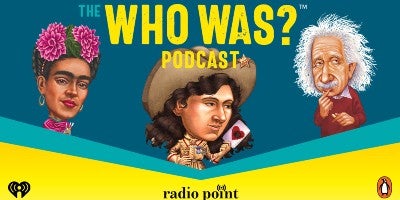 Penguin Workshop, iHeartMedia, and Radio Point have released The Who Was? Podcast, a new kids' comedy quiz show, from the team that produced the Emmy Award-winning Netflix series, The Who Was? Show and based on the #1 New York Times bestselling Who Was? children's history and biography series from Penguin Workshop, an imprint of Penguin Young Readers. The first series, consisting of 45 weekly 30-minute episodes, premiered today, March 16. Listeners can hear the official show trailer on iHeartRadio and everywhere podcasts are heard. You can also listen to the podcast trailer by clicking here.
Co-hosted by Emmy and Peabody Award-winning writer and comedian Elliott Kalan (The Daily Show with Jon Stewart) and Meghan O'Neill (Unbreakable Kimmy Schmidt, The Late Show with Stephen Colbert), each episode of the comedy quiz show podcast features games, fun facts, and sketches about trailblazing historical figures that will keep listeners laughing and learning. Each episode revolves around two historical figures that have been paired together for obvious, and sometimes not so obvious, reasons. Contestants between the ages of 8-12 years old will join in a friendly competition for a chance to be rewarded with a selection of Who Was? books and a set for their school library.
"The success of The Who Was? Show on Netflix helped us realize all the different ways Who HQ could spark a curiosity for history outside of a traditional biography format," said Francesco Sedita, President and Publisher of Penguin Workshop. "As we continue to expand our title list to include Board Books, Graphic Novels, and more, we are beyond thrilled to partner with iHeart, Radio Point, and the fantastic team behind The Who Was? Show to bring engaging history to young podcast listeners and their families."
"Who Was?" has been an amazing kids' franchise for years now, and we're excited to team up with Penguin Workshop and Radio Point to bring this series into podcasting," said Will Pearson, COO of iHeartPodcasts. "The podcast world needs a laugh-out-loud kids quiz show and we're thrilled to give our listeners something they can enjoy with their families."
Click here to listen to the first episode of The Who Was? Podcast, featuring Harriet Tubman and Ruth Bader Ginsburg.
The Who Was? book series began in 2002 with the publication of just four books. Since then, it has evolved into a brand encompassing over 300 titles across seven series lines (including Who HQ Now, Who Was? Graphic Novels, Who Was?, What Was?, Where Is?, What Is the Story Of?, and Who Was? Board Books, known collectively as Who HQ), a Podcast, and a Netflix original series. With more than 50 million books in print worldwide, it's now the #1 nonfiction series for middle-grade readers; every 13 seconds, a Who HQ book is sold. For more information about the series, including a list of titles, visit www.whohq.com.
Posted: March 16, 2022