Penguin Worlds Book Club: Alexis Henderson to Discuss THE YEAR OF THE WITCHING with Rachel Harrison via Zoom (9/24)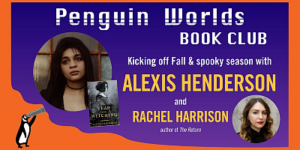 The first fall Penguin Worlds Book Club pick is THE YEAR OF THE WITCHING (Ace) by Alexis Henderson, who will be in conversation with Rachel Harrison, author of THE RETURN (Berkley), at this virtual event via Zoom on Thursday, September 24 at 7:00p pm (ET).
Just in time for Halloween: in THE YEAR OF THE WITCHING, a young woman living in a rigid, puritanical society discovers dark powers within herself in this stunning, feminist fantasy debut. One of Henderson's favorite independent bookstores, The Book Loft of German Village, is the partner for this event.
In Harrison's THE RETURN, a group of friends reunite after one of them has returned from a mysterious two-year disappearance. An edgy, haunting debut novel.
Rachel Harrison was born and raised in the weird state of New Jersey. She received her bachelor's in Writing for Film & Television from Emerson College. After graduating, she worked on TV game shows, in publishing, and for a big bank. She lives in Rochester, NY with her husband and their cat/overlord.
!! As a reminder, if you are posting to a personal or other non-PRH account you must include the hashtag #TeamPRH !!
Posted: September 23, 2020