Penguin Worlds Debuts with Jim Butcher In Conversation with Patrick Rothfuss via Zoom (5/21)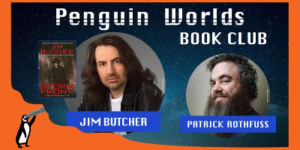 Penguin Publishing Group is launching the Penguin Worlds, a new speculative fiction book club, with a virtual discussion of STORM FRONT by #1 New York Times bestselling author Jim Butcher in conversation with Patrick Rothfuss via Zoom on Thursday, May 21 at 7:00pm (ET).
Butcher and Patrick Rothfuss will be hosting and leading a conversation about the first Dresden Files book, STORM FRONT, in honor of its 20th anniversary. You can learn more about the first Penguin Worlds book club here, and stay tuned for the next book pick and host, which will be announced at this event.
A martial arts enthusiast, has a résumé includes a long list of skills rendered obsolete at least two hundred years ago, #1 New York Times bestselling author Jim Butcher turned to writing as a career because anything else probably would have driven him insane. He lives mostly inside his own head so that he can write down the conversation of his imaginary friends, but his head can generally be found in the Rocky Mountains of Colorado. Jim is the author of the Dresden Files, the Codex Alera novels, and the Cinder Spires series, which began with The Aeronaut's Windlass.
Patrick Rothfuss is the bestselling author of The Kingkiller Chronicle. His first novel, The Name of the Wind, won the Quill Award and was a Publishers Weekly Best Book of the Year. Its sequel, The Wise Man's Fear, debuted at #1 on The New York Times bestseller chart and won the David Gemmell Legend Award. His novels have appeared on NPR's Top 100 Science Fiction/Fantasy Books list and Locus' Best 21st Century Fantasy Novels list. Pat lives in Wisconsin, where he brews mead, builds box forts with his children, and runs Worldbuilders, a book-centered charity that has raised more than six million dollars for Heifer International.
!! As a reminder, if you are a PRH employee posting to a personal or other non-PRH account, you must include the hashtag #TeamPRH !! 
Posted: May 20, 2020