Penguin Young Readers Celebrates a Year of Eric Carle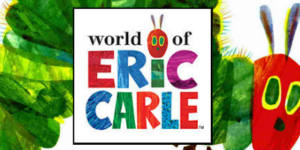 Just over one year ago, in January 2020, Penguin Young Readers acquired the intellectual property rights for Eric Carle, the beloved author and illustrator of more than 70 children's books, including The Very Hungry Caterpillar, which has been translated into 75 languages and sold more than 50 million copies worldwide. Over the past year, Eric Carle sales have grown an impressive 30%, making Carle the #1 bestselling preschool brand, led by The Very Hungry Caterpillar, which was 2020's 16th bestselling book of the year, and the #1 bestselling board book.
"When we acquired the IP for Eric Carle, our top priorities were to take great care of his life's work while also growing his audience and book sales," said Stephanie Sabol, Vice President, Business Development, Penguin Young Readers. "At the time, we had no idea a global pandemic was on the horizon or that The Very Hungry Caterpillar would become the comforting classic so many would turn to in this year of uncertainty. It's been incredible to see such rapid sales growth over the past year."
To feed the ever-growing appetite of young readers, World of Eric Carle, an imprint of Penguin Young Readers, has expanded its list with nine new interactive titles featuring new subjects and formats for the classic brand, including The Very Busy Spider (Workshop's first Carle Halloween title) and the Very Hungry Caterpillar's Snowy Day (Workshop's first "finger trail" lift the flap book). Meanwhile, the PYR subrights team has signed up 79 new Carle licenses and added another five languages to The Very Hungry Caterpillar's already long list of translations.
Eric Carle merchandise has also expanded over the past year, with 23 new licensees added in 2020, bringing the total number of active Carle licensees close to 200. One of the standout licensees in 2020 was Storytoy's Very Hungry Caterpillar's Playschool app, which was downloaded 2.4 million times to help entertain preschoolers stuck at home during the pandemic.
With an engaged and rapidly growing audience looking for more content, the Carle team will be expanding the World of Eric Carle footprint in 2021 with the launch of an Eric Carle YouTube Channel, a monthly digital newsletter, and the first Eric Carle workbook. The goal is to make sure every child in America has a copy of The Very Hungry Caterpillar!
Posted: March 10, 2021