Penguin Young Readers Celebrates the Launch of Kokila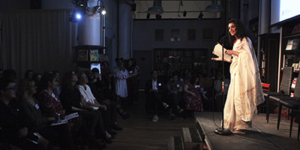 Penguin Young Readers hosted a celebration for the launch of Kokila, a new imprint dedicated to centering stories from the margins, on Monday, May 13, at Housing Works Bookstore Café in New York City. The imprint's debut list includes works from Newbery Honor winner Veera Hiranandani, Pablo Cartaya, Matthew A. Cherry, Vashti Harrison, Zeke Peña, Randy Ribay, and Isabel Quintero.
The evening began with welcoming remarks from Jen Loja, President of Penguin Young Readers, followed by an introduction to the evening by Namrata Tripathi, Vice President and Publisher of Kokila. Tripathi explained how the new imprint was born out of both "optimism and rage." The productive conversations about representation in children's books that were already taking place gave her hope, but she was frustrated by the way these important conversations were still being regarded as peripheral and nonessential. "I wondered how a space could be created for more of us to step into our power and a place where the work could be pushed, deeply interrogated, and uniquely supported," Tripathi said.
Tripathi then explained the evening's format, which, rather than a traditional book talk, would feature personal storytelling, a look behind the scenes at process, and conversations between the Kokila creators and the editorial staff. "Let's enjoy what happens when we put creative, generous, insightful people together in a space."
Following her remarks, Tripathi welcomed author and activist Simran Jeet Singh, whose forthcoming picture book with Kokila is a biography of British Sikh centenarian marathon runner Fauja Singh. Singh spoke about the importance of intention and how each of the Kokila authors, illustrators, and everyone involved in the making of these books shares the intention to make the world a better place. "Rightful intention is at the core of what we do. It's at the core of who we are as a community," he said. "So let's commit ourselves to upholding this, both personally and professionally. We'll all be better for it, especially our children."
Next, Veera Hiranandani, the Newbery Honor-winning author of The Night Diary, took the stage. The audience sat riveted while she shared a poignant story about growing up half-Jewish, half-Indian and never quite feeling whole in either world. "When I was a kid, I thought I felt like I was everyone and no one at the same time, but now I see it's more like getting to be everywhere and nowhere instead, which feels better," she said. "I'm still me wherever I go. It's not up to someone else to decide who I am based on what they think they perceive. It's kind of like a superpower, and it's my superpower."
Pura Belpré Honor winner Pablo Cartaya and cartoonist and installation artist Shing Yin Khor, who has a forthcoming graphic novel with Kokila, were joined onstage by Editor Joanna Cárdenas. Together, they discussed the art and metaphor of welding, which is one of Khor's specialties and a topic of interest for Emilia Torres, the protagonist in Cartaya's upcoming novel Each Tiny Spark. Cartaya worked with Khor during his writing process to fully and accurately flesh out the details of Emilia's world.
Isabel Quintero (My Papi Has a Motorcycle), Randy Ribay (Patron Saints of Nothing), Matthew A. Cherry and Vashti Harrison (Hair Love) then joined Tripathi on stage for a discussion about the joy and responsibility of creating reflections on the page, and the questions they asked themselves as they developed their books for the Kokila debut list.
Tripathi concluded the evening's formal programming by thanking the guests for coming and expressing her excitement for what is to come. "I'm really excited for the work that we're going to do together," she said. "But first, tonight, let's just celebrate the magic that happens when we connect around sharing our stories."
Posted: May 17, 2019