Penguin Young Readers Expands Influencer Network with "Black Excellence in YA" Campaign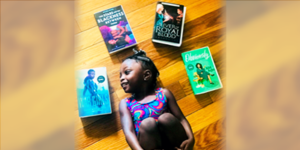 As part of their ongoing work to expand and diversify their influencer network, earlier this month Penguin Teen's digital marketing team put together an exciting influencer mailing celebrating Black voices. The mailing, dubbed "Black Excellence in YA", featured four YA titles by Black authors and starring Black protagonists, and was sent to some 60 micro- and nano- book influencers who identify as Black, with a combined reach of 334k followers.
"One of PenguinTeen's goals is to showcase not only the diversity of our authors but also the diversity of our readers," says Felicity Vallence, Associate Director of Digital Marketing, "With a fall list full of amazing black authors, we really wanted to put these books in the hands black influencers, so we sought out new and emerging Black voices in the book community and gave them early access to ARCs."
The mailing featured advanced copies of OBVIOUSLY by Akilah Hughes, WAR GIRLS by Tochi Onyebuchi, THE STARS AND THE BLACKNESS BETWEEN THEM by Junauda Petrus and A RIVER OF ROYAL BLOOD by Amanda Joy. It also included letters from each author, offering words of praise and encouragement about being a black artist and creating work centering on the black experience – be that a love story, a memoir, a futuristic battle to save the world, or a high-stakes, female-driven fantasy.
"As the boxes landed," Vallence noted, "we saw these influencers sharing their joy and excitement at being recognized and celebrated in this way. For some of them, it was the first time they'd received ARCs from a publishing house. It was incredibly powerful to see their photos, tweets, and unboxing videos coming in, and hear from them in their own words what this mailing meant to them."
@thedopelibrarian posted, "When my daughter, Camille, saw the covers she said, 'Oooh, I want to take a picture with these.' I love surrounding her with books, especially books with characters that look like her written by authors that look like her."
Posted: August 22, 2019