Penguin Young Readers Launches New Format This Fall With 'PENGUIN MINIS'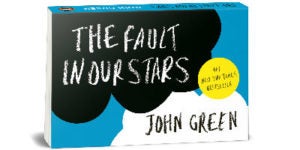 This fall Penguin Young Readers will introduce a brand new format to the American market – Penguin Minis – pocket-sized, full-length books that can easily fit in the palm of your hand. The inaugural list will debut with four titles by internationally bestselling author John Green: Looking for Alaska, An Abundance of Katherines, Paper Towns, and The Fault in Our Stars. Additional titles will follow in 2019. Available as single titles or a complete box set, the inaugural Penguin Minis have a first print run of 500,000 copies and will be available nationwide on October 23, 2018, just in time for the holiday season.
First introduced in The Netherlands in 2009, the compact format has sold nearly 10 million copies in nine countries with works from authors including Dan Brown, F. Scott Fitzgerald, John Le Carre, Agatha Christie, Ian McEwan, Isabel Allende, and more. The patented design created and produced by Dutch printer and publisher Royal Jongbloed utilizes a unique horizontal format, hinged cover, and ultra-thin paper to offer a complete, unabridged text with a trim size smaller than 5" x 3" and weighing an average of 5 ounces that can easily be held in the palm of one hand. Pages can be turned with the flick of a thumb, much like scrolling on a cell phone.
"We're thrilled to bring a whole new way of reading to the United States with Penguin Minis, and who better to launch this line of publishing than John Green," said Jennifer Loja, President of Penguin Young Readers. "We know that young readers, especially, still prefer print books, but are drawn to the portability of reading on their devices. We want to be right there with them – on the go, for summer vacations, or as the perfect stocking stuffer. We can't wait to see all the places the Penguin Minis will go."
"When my publisher, Julie Strauss-Gabel, first approached me with this idea I didn't even hesitate," says John Green, "The Penguin Minis are totally collectable, look and feel like a beautifully crafted item, and by some magic contain all the words I've put into my novels in this compact format. I'm excited to see which of my favorite books come next."
The Penguin Minis launch was announced in The Washington Post, which featured an interview with John Green and Julie Strauss-Gabel, President and Publisher, Dutton Children's Books. Click here to read the entire article and share the #PenguinMinis news.
Posted: August 13, 2018