Penguin's Meg Leder on Editing Johanna Basford, "The Queen of Coloring"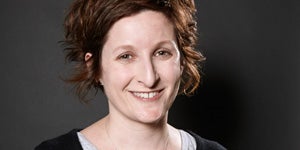 Meg Leder, Executive Editor, Penguin Books, takes us inside the world of adult coloring books, one of the hottest segments in publishing. She edits "The Queen of Coloring,"Johanna Basford, whose newest title, MAGICAL JUNGLE, is published by Penguin Books on August 9. Meg has brought her unique editorial skills to a diverse range of titles at Penguin since 2004. While at Perigee Books, she acquired such titles as Keri Smith's WRECK THIS JOURNAL, Tyler Knott Gregson's CHASERS OF THE LIGHT: Poems From  the Typewriter Series, and Lisa Currie's ME, YOU, US. Now at Penguin Books, she continues to work with Keri Smith, as well as publishing Johanna Basford's coloring books, among other titles.  Meg's editorial enthusiasm rings true in our Igloo interview with her.
In your view, what accounts for the adult coloring book craze and what separates Johanna Basford from the adult coloring book artist pack?
I think the adult coloring book crazy has taken hold for several reasons: (1) It's a welcome respite from the world of computer screens. Coloring is a distinctly physical activity, and there's something imminently relaxing about putting marker or colored pencil to paper, instead of spending time with screens. (2) It's an inherently democratic hobby. All you need is a book and a coloring tool—you don't need to spend a lot of money on supplies or time learning skills. (3) And I think it speaks to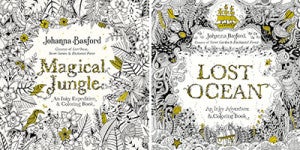 something a lot of us did when we were kids—weloved it then, so it makes sense we'd love it now, especially with the more intricate designs!
I think New York Magazine dubbed Johanna the "Queen of Coloring" for a number of reasons. She was one of the first people out there to invite adults into the coloring book realm. She's got a marvelous artistic vision—she's so exceptionally talented at creating intricate work that inspires colorists. And she's also extremely generous, both as a person and as a creator. She's said a number of times that she just starts the masterpieces, and her fans finish them. I think that generosity shows in her art and resonates with all her fans.
Watch Joanna Basford's "Magical Jungle – An Inky Expedition & Coloring Book" video:
How did you come to acquire and edit your first adult coloring book and how did the process compare with how you work with Johanna on her books?
When I was at Perigee, I acquired my first two coloring books at roughly the same time: OUTSIDE THE LINES by Souris Hong, and COLOR ME GIRL CRUSH by Mel Elliott. Rather than the fact that they were coloring books, what drew me to both of these was the subject matter (street art and Ryan Gosling, respectively!) and the fact that they expanded notions of creativity. And then, luckily, they both really benefitted from the adult coloring book craze timing-wise.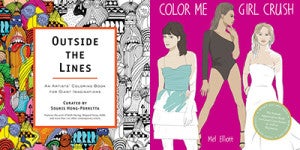 In the years since, the coloring book audience has become a lot more opinionated and sophisticated about what they want in a coloring book, so with Johanna's titles, we've spent a lot of time with our amazing production team looking at paper weight, opacity, etc. When I worked on those first two books, I never imagined that several years down the line, I'd be spending as much time talking about the merits of white vs ivory paper as I do now. But we want to keep those colorists happy!
In addition to adult coloring books, what are a couple of the upcoming titles you are editing that are of most interest and what do you hope will distinguish them in the consumer marketplace?
I'm publishing a book called CARRY THIS BOOK from Broad City's Abbi Jacobson this fall. It's a marvelous illustrated book detailing the contents of real people's and fictional characters' bags. It's one of the most wonderfully weird and weirdly wonderful projects I've worked on since I started publishing, and I think readers will be really intrigued by this glimpse into the way Abbi's mind and creative process work. Abbi's a spectacularly creative and cool person, and it shows on the page.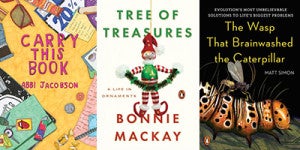 I'm also really excited about two other books I have coming out this fall: TREE OF TREASURES: A Life in Ornaments and THE WASP THAT BRAINWASHED THE CATERPILLAR. The former is a gift book that explores the way ornaments tell the stories of our lives, and the latter looks at all the strange animals that evolution has created, including the antechinus, whose males have so much sex during their three-week mating session that runaway testosterone levels make them bleed internally, go blind, and drop dead! I love that my list at Penguin has room for such a wide spectrum of books, and my hope is that readers will enjoy reading them as much as I loved editing them.
Posted: August 10, 2016