Peter Baker and Susan Glasser to Discuss the Life and Times of James Baker III via Zoom (10/20)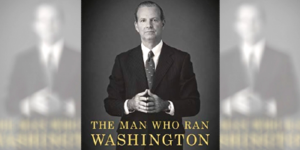 Peter Baker and Susan Glasser, authors of THE MAN WHO RAN WASHINGTON: The Life and Times of James Baker III (Doubleday), will delve into their new book at a Smithsonian Associates virtual event via Zoom on Tuesday, October 20 at 6:45 pm (ET).
From two of America's most revered political journalists comes the definitive biography of legendary White House chief of staff and secretary of state James A. Baker III: the man who ran Washington when Washington ran the world. His story is a case study in the acquisition, exercise, and preservation of power in late twentieth-century America and the story of Washington and the world in the modern era–how it once worked and how it has transformed into an era of gridlock and polarization. This masterly biography by two brilliant observers of the American political scene is destined to become a classic.
Peter Baker is the Chief White House Correspondent for The New York Times and a regular panelist on Washington Week on PBS. He is the author of the New York Times bestseller The Breach, about Bill Clinton's impeachment, and, with his wife, Susan Glasser, of Kremlin Rising, about Vladimir Putin's Russia.
Susan Glasser is a staff writer for The New Yorker and author of its weekly "Letter from Trump's Washington" as well as a CNN global affairs analyst.
!! As a reminder, if you are posting to a personal or other non-PRH account you must include the hashtag #TeamPRH !!
Posted: October 18, 2020