Peter Walsh Demonstrates How to Say Goodbye to Clutter on Instagram Live (4/7)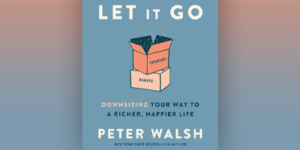 Enjoy a Lunch & Learn virtual program with Peter Walsh, decluttering guru and author of LET IT GO: Downsizing Your Way to a Richer, Happier Life (Rodale). He will demonstrate how to say goodbye to clutter, reduce stress, and live simply, going through his easy-to-use guide to downsizing on Instagram Live (@randomhouse), Tuesday, April 7, at 12:30pm (ET).
Nourish your brain during your midday meal with Mr. Walsh. Whether you are selling your family home, blending households into a new home, or cleaning out your aging parents' home, sorting through a lifetime's worth of accumulated possessions can be a daunting and stressful experience. Peter walks you through every step of the process. You'll feel freer and happier than you ever thought possible once you LET IT GO.
Peter Walsh is the author of seven previous books, including the New York Times bestsellers It's All Too Much and Enough Already! as well as Lose the Clutter, Lose the Weight. He is a popular organization expert who appears regularly on The Rachael Ray Show and writes a quarterly column for O the Oprah Magazine. He has hosted several TV shows, including Clean Sweep and Extreme Clutter.
!!As a reminder, if you are posting to a personal or other non-PRH account you must include the hashtag #TeamPRH."!!
Posted: April 6, 2020