Philip Kerr, 1956 – 2018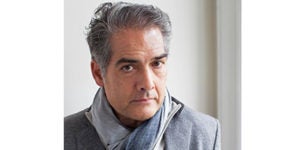 The publishing world lost one of its most distinguished modern thriller writers. Philip Kerr, the New York Times and USA Today bestselling author of the Bernie Gunther novels, died on Friday, March 23 in London after an eight-month battle with cancer. 
Nearly thirty years ago, Philip Kerr's debut novel March Violets introduced the character of Bernie Gunther, a sardonic,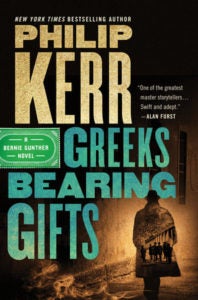 hard-drinking detective tackling the dark depths of Nazi and post-war era Germany. March Violets would become the first installment in the original Berlin Noir trilogy, which was published in the United States in 1993 and included The Pale Criminal and A German Requiem. Thirteen years later, due to reader love and demand, Kerr returned to the world of Bernie Gunther in The One from the Other. In her review of the novel for The New York Times Book Review, critic Marilyn Stasio called Gunther "the right kind of hero for his time—and ours." Kerr would go on to write nine additional Bernie Gunther novels: A Quiet Flame, If the Dead Rise Not, Field Gray, Prague Fatale, A Man Without Breath, The Lady from Zagreb, The Other Side of Silence, Prussian Blue, and Greeks Bearing Gifts, A Marian Wood Book/Putnam, which will be published in April 2018.
Several of Kerr's Gunther novels became instant bestsellers upon publication, including six New York Times bestsellers (Prussian Blue, The Other Side of Silence, The Lady from Zagreb, A Man Without Breath, Prague Fatale, and Field Gray) and five USA Today and Publishers Weekly bestsellers (Prussian Blue, The Other Side of Silence, The Lady from Zagreb, A Man Without Breath, and Prague Fatale). In addition, Kerr has received several award nominations and honors. He was a three-time nominee for an Edgar Award for Best Novel for Field Gray, The Lady of Zagreb, and Prussian Blue, a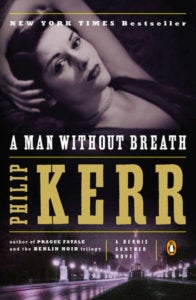 Shamus Award nominee for If the Dead Rise Not, and a winner of both a Barry Award and the British Crime Writers' Association's Ellis Peters Historic Crime Award for If the Dead Rise Not. In early 2018, his novel Prussian Blue was also nominated for a Barry Award for Best Novel. His books have been published into thirty-seven territories.
His long-time editor Marian Wood said, "Working with Philip Kerr was the kind of experience all editors hope to have. In the twenty-plus years we worked together I found him responsive, funny, brilliant, and totally committed to his writing and hence, to being edited as long as he thought the editing was serious. He was an amazing human being and I will always miss him. At the moment, there is a huge hole in my life. I suspect it will stay with me as long as he lives in my memory–which means, as long as I live. He was special. More people might do well to learn that from his work and his ways."
A growing list of high-profile personalities, impressive critics and fellow writers continue to share their love for Kerr and his Bernie Gunther novels. New Yorker critic Jane Kramer called Gunther "one of crime fiction's most satisfying and unlikely survivors: the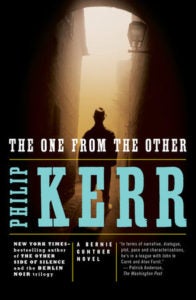 good cop in the belly of the Nazi beast" and Patrick Anderson of the Washington Post praised Kerr as "a fine novelist; in terms of narrative, dialogue, plot, pace and characterizations, he's in a league with John le Carré and Alan Furst." Indeed, New York Times bestselling author Alan Furst himself called Kerr "one of the greatest master storytellers in English," and New York Times bestselling author Lee Child called Gunther "one of the greatest antiheroes ever written." In his "By the Book" column for The New York Times Book Review, Academy-Award Winner  Tom Hanks  named Kerr as one of the authors he especially enjoys reading most. In addition, in a recent review for Greeks Bearing Gifts in The Sunday Times (UK), Nick Rennison called Gunther "one of the most memorable and original characters in contemporary popular fiction" and praised Kerr as an author who "has few, if any, rivals to match him among modern thriller writers."
Born in Edinburgh, Scotland, on February 22, 1956, Kerr studied law and philosophy at the University of Birmingham. Following university, Kerr worked as a copywriter for several advertising agencies, including Saatchi & Saatchi, and at the London Evening Standard. In addition to his Bernie Gunther novels, Kerr wrote two nonfiction books, fifteen adult novels (including the Scott Manson series), and ten children's fiction books (including the Children of the Lamp series). He lived in London and is survived by his novelist and journalist wife Jane Thynne and their three children.
Posted: March 26, 2018