Philip Pullman's THE BOOK OF DUST to be Published by Alfred A. Knopf Books for Young Readers in October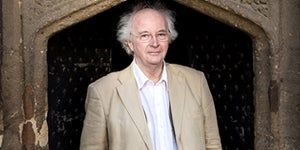 The highly-anticipated news of Philip Pullman's THE BOOK OF DUST release date is now official, with Alfred A. Knopf Books for Young Readers to publish the book on October 19, 2017.
The Associated Press announced the news with this article, Pullman Reveals 'His Dark Materials' Follow-Up, featuring an exclusive interview with Mr. Pullman. Here is an excerpt:
For readers and booksellers, this is news to rival the discovery of a new Harry Potter story. "His Dark Materials" has sold more than 17.5 million copies around the world. It spawned a Hollywood movie, The Golden Compass, and a hit stage adaptation.
The new book begins a decade before the start of the original trilogy, but Mr. Pullman says it is not a prequel. Nor is it a sequel. Mr. Pullman prefers to call it an "equel," or companion story.
"The first part will deal with something that happened when Lyra was less than 1 year old," he said. "So in that sense she's the center of the story, but she's not actually an agent in the story. She is acted upon, so to speak, by other people who are very important. The second part, which will come out later, will deal with events when Lyra is about 20."
Read the full AP article here.
NPR's Morning Edition is airing an approximately 10-minute taped interview, Author Philip Pullman Announces A Follow-Up Trilogy To 'His Dark Materials'.  Access it here.
Posted: February 15, 2017