Philomel's Jill Santopolo on the Creation of Chelsea Clinton's IT'S YOUR WORLD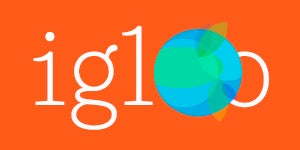 In this new installment of our Climate Change series, Jill Santopolo, Editorial Director, Philomel Books, tells us about her key role in the creation of Chelsea Clinton's IT'S YOUR WORLD: Get Informed, Get Inspired and Get Going. Climate Change is one of the big issues covered in the book, including a detailed "Weather Report" section. Young readers are shown how "small actions can make a big difference" in helping to protect the environment.
In addition to her duties at Philomel, where she has also edited books by other bestselling, award-winning authors such as Andrea Cremer, Amy Ephron, Lisa Graff, and Mayim Bialik, Jill is also an author. Her upcoming novel, THE LIGHT WE LOST, will be published by Putnam on May 9.
Here, Jill offers insights into her editorial work on and inspiration behind IT'S YOUR WORLD as well as steps readers of the book can take to make a difference.
What was the genesis of Chelsea Clinton's book IT'S YOUR WORLD and the resulting process of mapping out the structure and creating the content – particularly the "Weather Report" section?
IT'S YOUR WORLD actually came to be because of television. Chelsea had appeared on The Daily Show  with Jon Stewart to talk about global health, and I happened to be sitting on my couch watching TV that night. I was so impressed with the way in which Chelsea was able to explain complicated subjects in ways that were easy to understand that I reached out and asked her if she might be interested in writing a book for young readers that talked to them about the biggest issues facing our world today. It turned out that Chelsea had already been thinking about doing just that. And, of course, when you're talking about big issues facing our world, climate change is one of them.
We decided that the book would be divided into four sections focusing on the economy, rights, health, and the environment. Within those sections, there are smaller chapters in which Chelsea included explanations, features on kids (and some adults) who are working to make a difference in those areas, and then Get Going! lists of actions readers can take to make a difference themselves. That same structure is in the Weather Report section.
How would you describe the experience of working with Ms. Clinton as her editor on this project and what was involved in establishing a narrative voice that would grab and hold the interest of young readers?
It's was truly a pleasure to work with Chelsea on IT'S YOUR WORLD. She's such a thoughtful, intelligent person, and I think those qualities are reflected in her writing. As far as tweaking her narrative voice for young readers, we talked about the idea of writing as if she were having a conversation with one of her nieces or nephews, which is why I think her voice in the book sounds so natural and so much like her.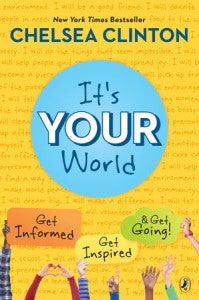 Climate Change is of urgent relevance to us all today.  How did you and Ms. Clinton address this environmental crisis in IT'S YOUR WORLD, sharing insights and details, in a way that would not only inform but inspire action?
I think Chelsea did a remarkable job of explaining exactly what climate change is and the reasons it's happening—both the large ones and the small ones. Because of the ways she's able to break down this issue into bite-sized pieces, I think it's easy for young readers to see how they, personally can make a difference by doing small things like recycling, bringing reusable bags on shopping trips, taking short showers instead of baths, turning off the water while brushing teeth, riding a bike instead of taking a car, and so much more. One of the themes of IT'S YOUR WORLD is that every bit count, and that a ton of small actions can make a big difference. That's one of the messages I think is the most empowering about the book.
What do you feel will be the primary environmental-related takeaways from IT'S YOUR WORLD that young readers will be able to integrate into their everyday lives?
What I hope young readers will take away from IT'S YOUR WORLD is that you're never too young (or too old, for that matter!) to make a difference. Whether it's one of the smaller actions I mentioned above or starting something larger, like the incredible kids Chelsea features in her books have done, it takes all of us, working together, to create a better future for our planet and ourselves.
As part of Penguin Random House's ongoing commitment to social responsibility and business practices that minimize our impact on the environment, our Climate Change series is meant to further the discussion. 
Posted: April 20, 2017