Photos and Highlights from Random House's "Holiday House" Event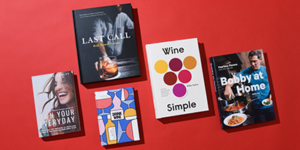 The holiday festivities started early on Thursday, November 14, when Random House Special Events hosted an evening where bookworms, foodies, and spirited beverage enthusiasts united at The New School in New York City. Hundreds of audience members gathered at "Holiday House" to hear directly from our authors for recipes, book recommendations, and thoughtful conversations, to make this year's holiday season the best one yet.
Before the programming began, guests were treated to delicious drinks and cookies as they browsed and shopped in the pop-up bookstore. Theresa Zoro, EVP, Executive Creative Director, Marketing and Public Relations, Random House, welcomed the audience and served as the evening's emcee, leading the raffle drawings of bountiful prizes and introducing trailers to our books' television and movie tie-ins.
Food icons Bobby Flay and Michael Symon kicked off the evening in humorous conversation, delighting guests with jibs at Bobby's tracksuit and anecdotes from their friendship. Michael spoke to how his struggles with his autoimmune disease informed his new cookbook, which does not sacrifice taste for health. Bobby discussed how he finds daily inspiration for his recipes from exotic travels to local restaurants in the City. His new cookbook, BOBBY AT HOME, is his most personal – it's truly a collection of what he cooks in his own home for friends and family. Bobby suggested it may be less daunting for people to try than cookbooks created from restaurant menus.
Daniel Jones, the editor of the beloved New York Times Modern Love column, was joined by hosts of the Bad on Paper podcast, Grace Atwood and Becca Freeman. When asked how he is able to select stories from over 9,000 submissions, Daniel explained, "The stories we publish demand to be published." Fans of the column and new hit television series would adamantly agree. Daniel also provided some behind-the-scenes info on the television show, of which he serves as a consulting producer.
World-renowned wine and cocktail experts Brad Thomas Parsons, Grant Reynolds, and Aldo Sohm took to the stage to share what they'll be serving during the holidays and debunked myths on certain wine pairings. The panelists also shared their go-to local haunts that epitomize the holidays, such as Frank's Wine Bar, Leyenda, and Red Hook Tavern, as well as classics such as Corner Bistro and Balthazar.
A particularly fun highlight was when Madeline McIntosh, Penguin Random House U.S. CEO, and Abbe Wright, Senior Editor of Read it Forward, discussed their favorite books of 2019. With so many titles to choose from, Madeline said that when selecting the books for her lists she chose the ones where the characters and voices stayed with her. From literary star Zadie Smith's GRAND UNION to resurrected treasure THE LAST COURSE, stories that evoked favorite books from past years to emerging voices, Madeline and Abbe's titles are ones that demand to be read.
Inspirational guru Jordan Lee Dooley closed out the evening, offering guidance on how to make the holidays—and life—a little easier. Through thought exercises and perspective-shifting, Jordan left the audience with helpful tips to assist in combating stressful and negative feelings.
Photos of the event for everyone to enjoy are below.
Posted: November 18, 2019