Play New Election Mad Libs Game and Be Sure to Vote!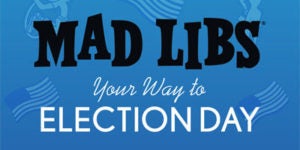 Election Day is Tuesday, November 6. In a novel new way to help #BooktheVote and inspire more people to go to the polls, Penguin Young Readers and HeadCount , a non partisan voter engagement organization, have teamed up to create Election Mad Libs. Players can choose their own nouns, verbs and adjectives, and also fill in how and where they'll vote. If someone doesn't know their polling location, a link appears where they can easily access that information. The game makes it easier than ever for voters to create an Election Day plan for themselves – a practice that's proven to increase the chances someone will vote.
We encourage everyone (Penguin Random House colleagues, authors, family and friends) to play the Election Mad Libs Game. by visiting MadLibs.HeadCount.org or texting "ELECTION" to 40649. A companion video can be found here. Share your own stories on social with #electionmadlibs, and, most importantly, be sure to go to the polls and vote!
"Mad Libs is proud to help voters create their Election Day plans, and have fun doing so!" said Francesco Sedita, President & Publisher, Penguin Workshop.
Election Mad Libs is part of Penguin Random House's "Book the Vote" campaign, which has seen HeadCount register voters at various author signings and appearances. To date, HeadCount has registered more than 500,000 voters in its history, largely through its work with music and cultural influencers.
There is still time to help get out the vote through Book the Vote:
Use the hashtags #BooktheVote and #thisreadervotes on your social pages along with Book the Vote logos.
Sign up for election reminder alerts by clicking here.
Add transparent overlay logos to your photos.
Tag on social:
Twitter: @PenguinRandom + @HeadCountOrg
Facebook/Instagram: @PenguinRandomHouse + @HeadCountOrg
Share, tweet, and retweet!
And, of course, be sure to vote!
.
Posted: November 5, 2018