Podcast by Convergent Author Jedidiah Jenkins Tops 100K Downloads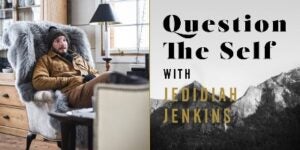 New York Times bestselling Convergent author and memoirist Jedidiah Jenkins' podcast, Question The Self, has crossed 100K downloads. Created in partnership with the Author Development team and distributed via Anchor (by Spotify), Question The Self was conceived in early 2020 and has slowly gained a loyal and engaged following.
Each episode features Jenkins in discussion with a different guest – from director John M. Chu and actress Connie Britton to authors Sasha Sagan and Ruthie Lindsey to teachers and activists, including Pastor Brit Barron and co-founder of the Kind Campaign Lauren Paul. With over a dozen episodes released to date, Jenkins is already confirming guests for season three, which will feature actors and artists Kirsten Dunst, Sophia Bush and Jack Garrett, among others.
Drawing on his two books, To Shake the Sleeping Self and Like Streams to the Ocean (also available on Penguin Random House Audio), Jenkins' podcast allows him to explore fundamental life questions about ego, love, friendship, family, purpose, spirituality and more in wide-ranging conversations with friends and guests whom he describes as his "wisdom teachers." The show is designed to share with his fans the people who have shaped and inspired him. He also invites listeners to submit their questions via voice memo by DM'ing him on Instagram and has begun responding to their big questions live on the show.
To listen and subscribe to Question the Self visit Apple Podcasts, Spotify or wherever you get your podcasts. Contact Stephanie Bowen, Director, Author Development, with any questions.
Posted: April 5, 2022